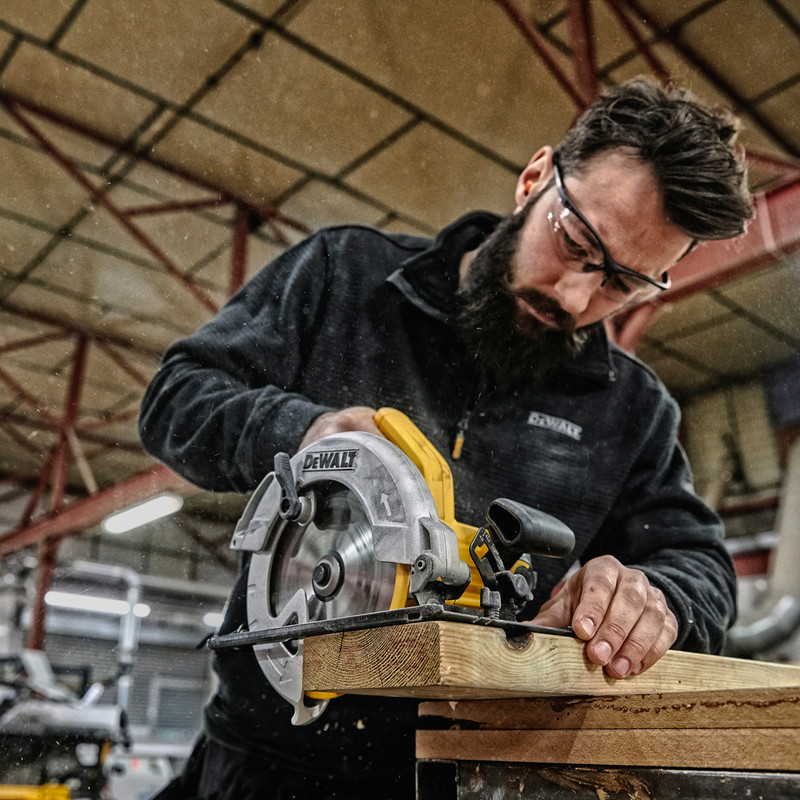 Slide 1 of 1
Whether you're cutting wood, plastic or concrete, you'll find a wide range of saws for the job at Toolstation. There's a lot to consider when choosing a saw, including the material you're cutting, the precision you need for the project, and the speed you need things cut. 
Hand saws aren't a thing of the past – they're a staple of any toolkit, can give you greater control and precision, not to mention they're often safer to use. However, power saws can get through material much quicker, are easy to use, and are often more powerful so can get through tougher materials
Once you've narrowed down whether you need a hand saw or a power saw, you'll want to consider a number of features including teeth per inch (TPI), blade material, handle type and size. 
Types of Hand Saw
Hand saws are perfect additions to any toolkit, and are loved by DIYers and tradies alike. You'll find handsaws suitable for a range of materials, including wood, plasterboard, metal and plastic. 
Types of Power Saw
Power saws use electricity - from a battery or mains power - to cut through materials with speed and ease. You'll find power saws for wood, metal, and even masonry.
Teeth per inch (TPI)
The number of teeth per inch (TPI) on a saw blade affects how the blade will interact with different surfaces. Softer materials will need a lower TPI to avoid damaging the material and offer a neater finish, whilst harder materials such as metal will need a higher TPI to make a cut. 
You'll also find that the higher the TPI, the better the quality of the cut and finish – for a faster and rougher cut you'll want a blade with fewer teeth per inch. 
It's important to note that bigger saws will often have more teeth, but not necessarily a higher TPI.
Size
As you'd expect, you'll want a larger saw for larger tasks so you can use long strokes and get through the material more easily. However, if you're after delicate and intricate cuts, small saws, small blades and short strokes will be best.
You may also find that larger saws may not give as smooth a finish as smaller saws in many cases – but this will also depend on the TPI and the type of blade. 
If you're debating between two similar sizes of hand saw, it can help to think about a saw that will fit in your toolbox – this will be easier to keep the blade protected and protect you and others from accidental injury.
Gullets
Gullets refer to the spaces between the teeth. If a blade has fewer teeth, it'll have deeper gullets which means a more aggressive, chiselling action. 
You'll also find some blades referred to as coarse, fine, and universal. Coarse blades have large gullets and a lower TPI so they can rip through materials quickly – but will leave a rough finish.
Fine blades have small gullets and more teeth per inch so they're better suited to delicate work, whilst medium – universal – blades are somewhere in the middle of coarse and fine.
Handle Type
The three most common handle types are closed pistol-grip handles, open pistol-grip handles, and straight handles. 
Closed pistol-grip handles are used with larger blades, and protect the user's hand from slipping – perfect for fast, aggressive cutting. Open pistol-grip handles are found on small saws used for working in awkward spaces because of the curved, lightweight handle. 
Straight handles offer control and are turned easily in your hand so you can cut intricate shapes. They're not used for fast cutting because it's hard to apply force.
Blade Material
Most blades will be made of steel, but you may find that some have diamond-tipped teeth for added strength.
C75 steel is very common. It's strong and resistant to corrosion because it has a high carbon content of 0.7% to 0.8%. 
65 MN Spring Steel has manganese in, which makes the blade harder and gives it a longer life. You'll also find 0.85mm SK5 blades which can offer high levels of power transfer and are commonly used to increase the power of hand saws.
Frequently Asked Questions
What are the different types of saws?
What are bow saws used for?
What are bandsaws used for?
What are tenon saws used for?
What are circular saws used for?
How do you sharpen a hand saw?
What are reciprocating saws used for?
What are mitre saws used for?
What are table saws good for?
Why do circular saws cut upwards?
What are jab saws used for?
How do you store hand saws?