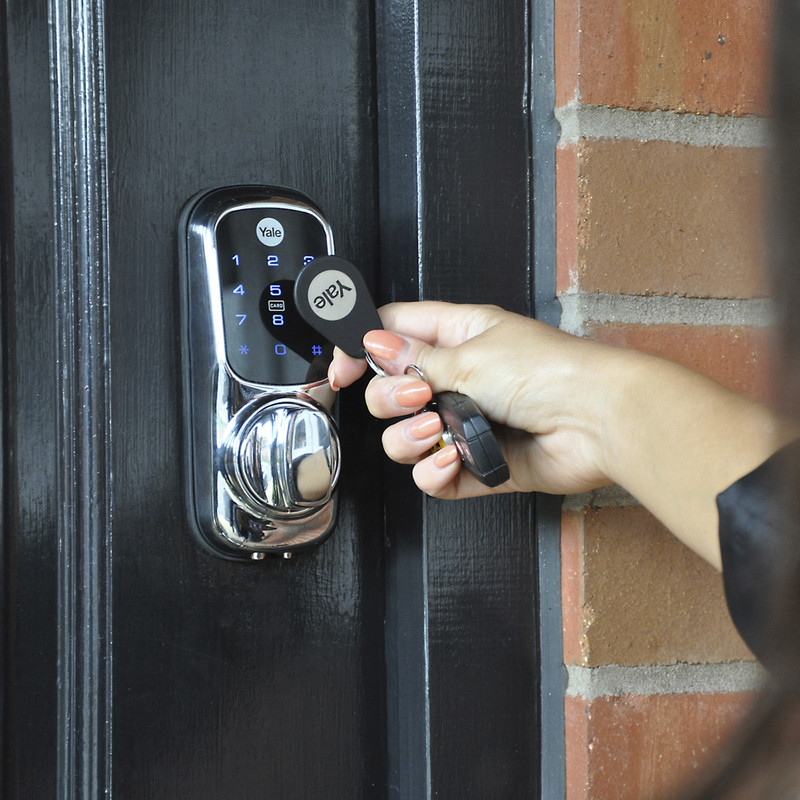 Item 1 of 1
Door locks are the first line of defence for buildings, but buying the wrong type could put you at risk of burglaries. Using a British Standard approved lock for your home may be required by insurance companies and, if not, could still save you a lot of money insuring your property.
There are a number of locks to choose from – some used on their own, some to work alongside other defences – including mortice locks, euro locks and surface locks.
When choosing a lock, consider the level of security you need, the material of the door, insurance policies and budgets to find the right one for your needs.
Types of Mortice Door Lock
Mortice locks fit into a pocket in the edge of the door – called a mortice – and have a locking bolt which moves back and forth into the door frame.
Mortice locks range from 2 to 7 levers, with higher security with every lever added. Here at Toolstation, you'll find 3 lever and 5 lever varieties. 5 lever locks are commonly used on external doors, sometimes alongside nightlatches to add extra security.
The two main types of mortice lock are sash locks and deadlocks.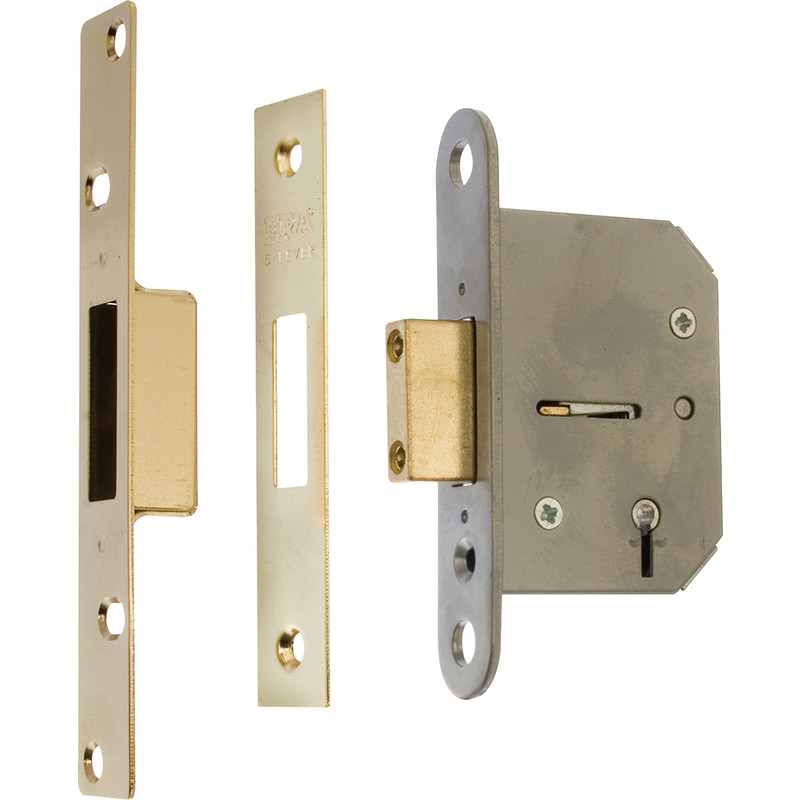 5-Lever Deadlocks
Looking for the best lock for external timber doors? 5-lever deadlocks are ideal because they're very difficult to break into – if they're British Standard BS361 approved, they've been rigorously tested against all the common methods used by burglars.
With the British Standard approval, they could bring down the cost of insuring your property because they offer a high level of protection – they're also recommended by the police.
5-lever deadlocks are more expensive than their 3-lever counterparts to reflect the higher security offered by these models.
Advantages
High protection for external residential doors

Can reduce home insurance premium

Can be 'keyed alike' – use one key for multiple locks
Things to Consider
Not all 5-lever deadlocks are British Standard BS361 approved

May be worth considering a surface lock in addition for extra security

Higher cost than 3-lever deadlocks because of greater security
Shop 5-Lever Deadlocks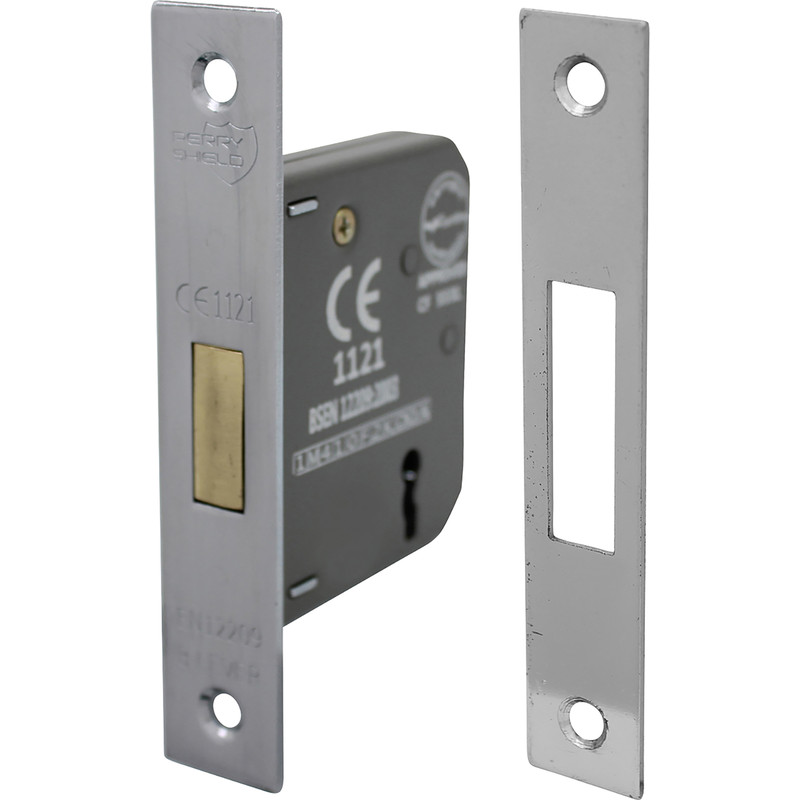 3-Lever Deadlocks
If you're looking to secure internal wooden doors or add privacy for bedrooms or bathrooms, 3-lever deadlocks are a common choice because they're less expensive yet still difficult to force open.
They're also aesthetically pleasing – just the keyhole and faceplate of the locking mechanism are seen when the door is closed. 3-lever deadlocks can also be keyed alike, meaning you'll need just one key for multiple locks – making them safer in emergency situations.
3-lever mortice deadlocks don't meet the BS361 British Standard for external doors, so are only suitable for internal doors.
Advantages
Lock internal doors for privacy at a lower cost than 5-lever locks

Difficult to force open

Aesthetically pleasing – less of the locking mechanism visible
Things to Consider
Should only be used for internal doors

Advisable to keep a key accessible in case of an emergency
Shop 3-Lever Deadlocks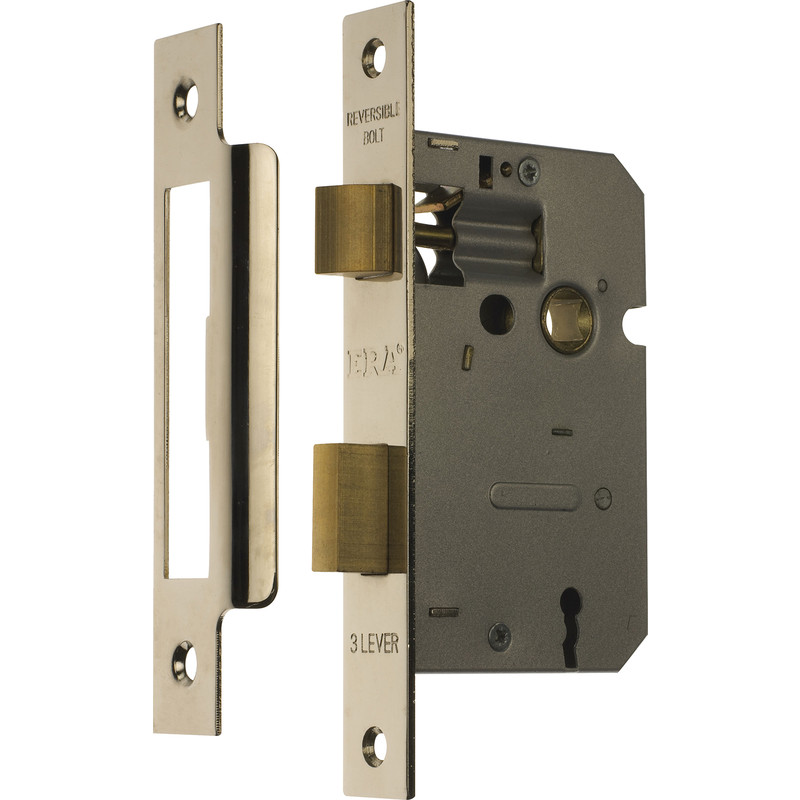 Sash Locks
3 and 5-lever sash locks – used for timber doors – are a reliable and versatile lock with a bolt that slides into the door frame and a latch to operate it. This means you don't need to worry about it locking behind you if you forget your key on busy mornings!
Like deadlocks, because they're fitted inside the door, they're very difficult to force open. As well as this, most of the lock being stored inside means you have lots of choice to customise what you can see, such as the door handle, to fit your style.
It's important to remember that, like deadlocks, only 5-lever sash locks can be British Standard BS3621 approved, so you should ensure they've passed these checks before relying on them to secure your property.
Advantages
Versatile, unobtrusive and very secure lock for external and internal doors

Doesn't lock behind you if you forget your key
Things to Consider
Only 5-lever locks should be used for external doors

Need to remember to manually lock

Professional locksmith recommended for installation
Shop Sash Locks
Types of Euro Cylinder
Euro cases look similar to sash locks and deadlocks, but are mainly used for PVCu doors instead of timber doors. They have space for an inexpensive, replaceable euro cylinder lock – ideal for landlords who need to change the locks when a new tenant moves in.
Cylinders come as single, double and thumbturn varieties. Single cylinders only lock from one side, double cylinders lock from both sides, and thumb turn cylinders unlock by rotating a solid metal thumb turn instead of a key.
Different standards of cylinder are available, including standard 6-pin, 1 star kitemarked, and 3 star kitemarked – the latter being the only security recommended for external doors, unless 1 star cylinders are used with 2 star door hardware.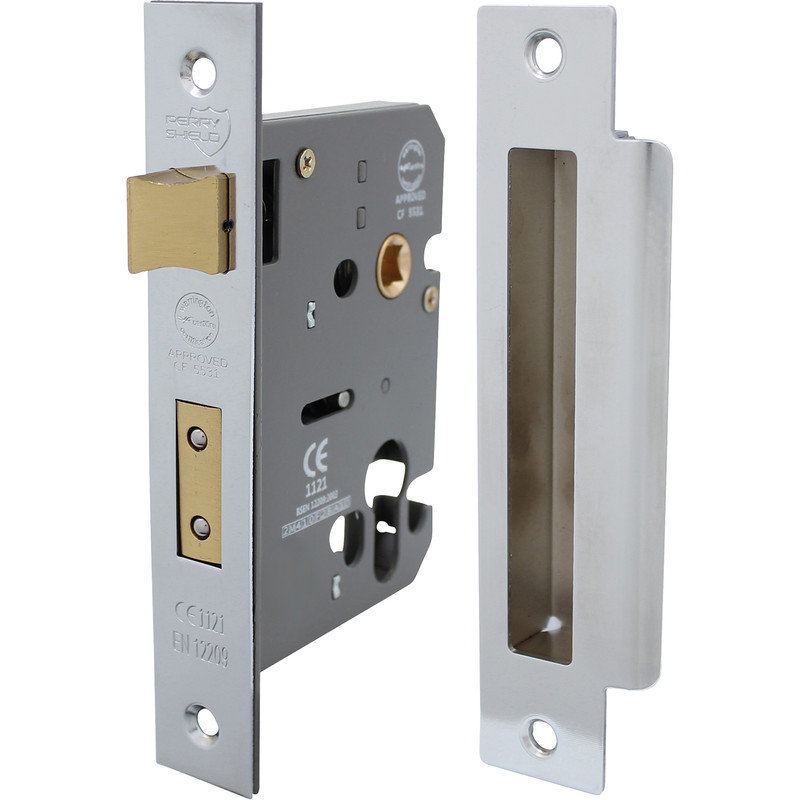 Euro Sash Cases
Euro sash cases – like classic sash locks – are often used for external doors, and have a deadbolt that slides into the door frame and a spring-loaded latch. They're operated with a replaceable cylinder to make changing the locks easy and inexpensive.
A thumbturn cylinder allows the door to be unlocked from the inside by turning the thumbturn on the cylinder, making it ideal for emergency situations. However, it requires a key when used from the outside.
It's important to check that the euro cylinder is 3 star kitemarked to ensure it's anti-pick, anti-drill, anti-bump and anti-snap. We always recommend to use a 3 star rated cylinder as it provides the best protection for your door.
Advantages
Inexpensive and easy to change the locks

Thumbturn cylinders are ideal for building with one entry point for quick exit

Known for high security – deterring burglars
Things to Consider
Needs to be 3 star kitemarked for external doors

Cheaper cylinders can sometimes get stuck or jammed
Shop Euro Sash Cases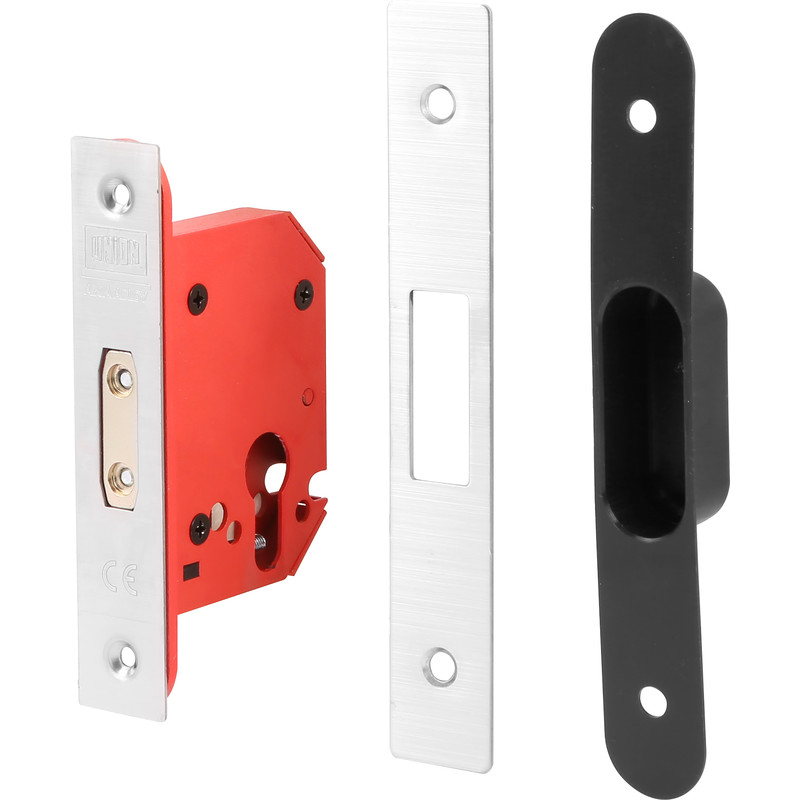 Euro Dead Cases
Euro dead cases, like mortice deadlocks, secure a door with a bolt that slides into the door frame – but with a replaceable cylinder locking mechanism that makes it inexpensive and easy to change the locks.
Dead cases are versatile and customisable; you can choose from a wide range of escutcheons – protective and decorative keyhole covers – to find the right style for your doors.
Unlike sash cases, if the door is locked, you need to unlock it with a key – meaning you'll want to keep a spare close by for emergency situations.
Advantages
Inexpensive and easy to replace locks

Versatile and customisable to your needs
Things to Consider
Keep a spare key close-by in case of emergencies

For external doors, cylinders need a 3* kitemark
Shop Euro Dead Cases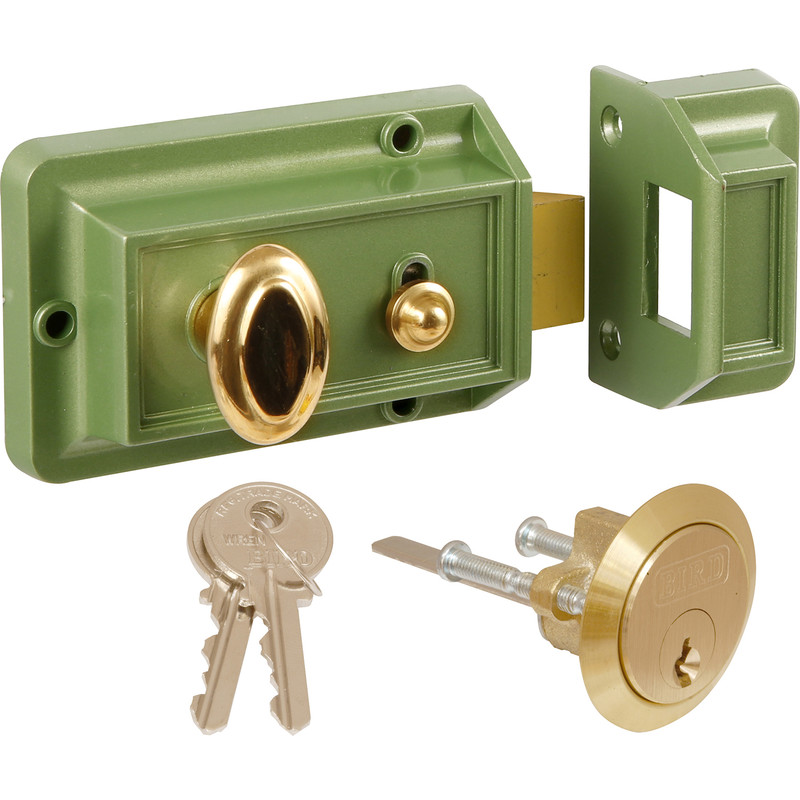 Night Latches
Night latches are often used on front doors alongside a mortice lock. A metal bolt slides into a case attached to the door frame. They are unlocked from the outside using a key, and a thumb turn from the inside of the home.
They automatically lock the door behind you so you don't need to remember to lock it if you're leaving in a rush – but you can put night latches 'on the latch' to avoid this when needed.
Standard night latches shouldn't be relied on to secure a property on their own unless they're British Standard approved. Pair night latches with a BS3621 5-lever mortice lock to meet insurance regulations and police recommendations.
Advantages
Simple security, ergonomic and easy-to-use

Easy to install

Proven high-security
Things to Consider
Standard model should be paired with a 5-lever mortice lock

May be worth considering a surface lock in addition for extra security

The lock is fully visible compared to mortice types
Shop Night Latches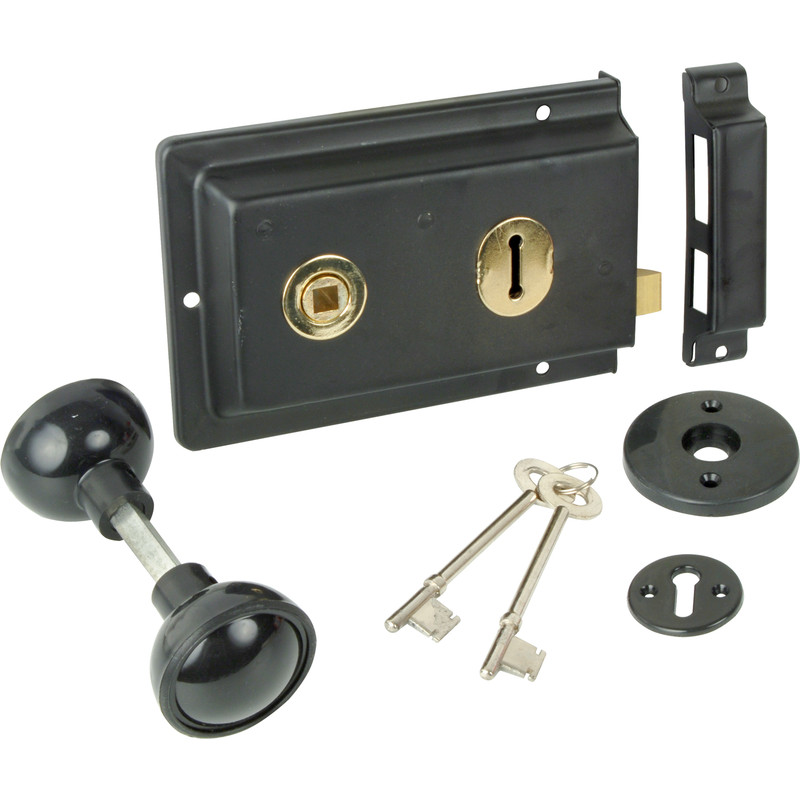 Rim Locks
Rim locks are the oldest type of lock used in the UK and Ireland. They're easily attached to the surface of a door and feature a sliding bolt which slides into a case on the door frame. They're used alongside mortice locks on front doors, or to keep garden sheds secure.
Because they're mounted on the surface of the door, there's less damage to the door or door frame compared to mortice locks – which cut large holes into the woodwork. This also means the locks can have stylish decorations to suit your taste.
Rim locks aren't secure enough for external doors because they're only attached to the surface meaning they're easier to overcome; you'll need to use them with a BS3621 approved lock if you want to use them for anything other than internal doors.
Advantages
Traditional and stylish designs available

Easy to install and replace when needed

Reduced damage to the door
Things to Consider
Can be snapped with brute force

Can be opened from the outside with skeleton keys
Shop Rim Locks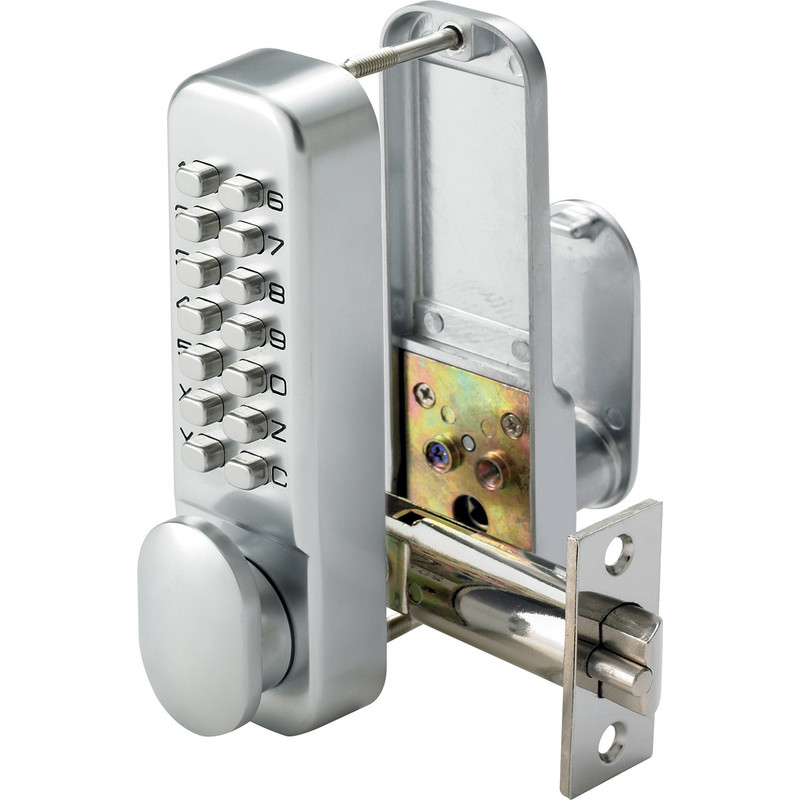 Push Button Locks
Push button locks offer high security for internal and external doors, and are operated using a keypad with a code set by the user – you won't need to give keys to everyone who needs access. When the correct code is entered, a bolt slides out of the door frame to unlock the door.
The code can be changed at any time – making it easy to control who's allowed in and out without having to change the entire lock.
It's important to consider who the code is being shared with – it's much easier to lose track of than a key! And in the case of battery-operated locks – the battery could run out.
Advantages
Convenient, controlled access to offices and cupboards

Change the code whenever needed & save money on key copies

Burglars already know lots of tricks for traditional locks
Things to Consider
Anyone could share the code at any time

Code may need to be changed regularly

Technology could malfunction or power supply may need replacing
Shop Push Button Locks
Door Lock Finishes and Materials
Frequently Asked Questions
What is the most secure form of door lock?
What type of locks should be used on exterior doors?
Why do front doors have two locks?
What is a normal door lock called?
What is a spring latch lock?
How can I make my front door more secure?
How do you stop a door from being kicked in?
What is the star rating on locks?