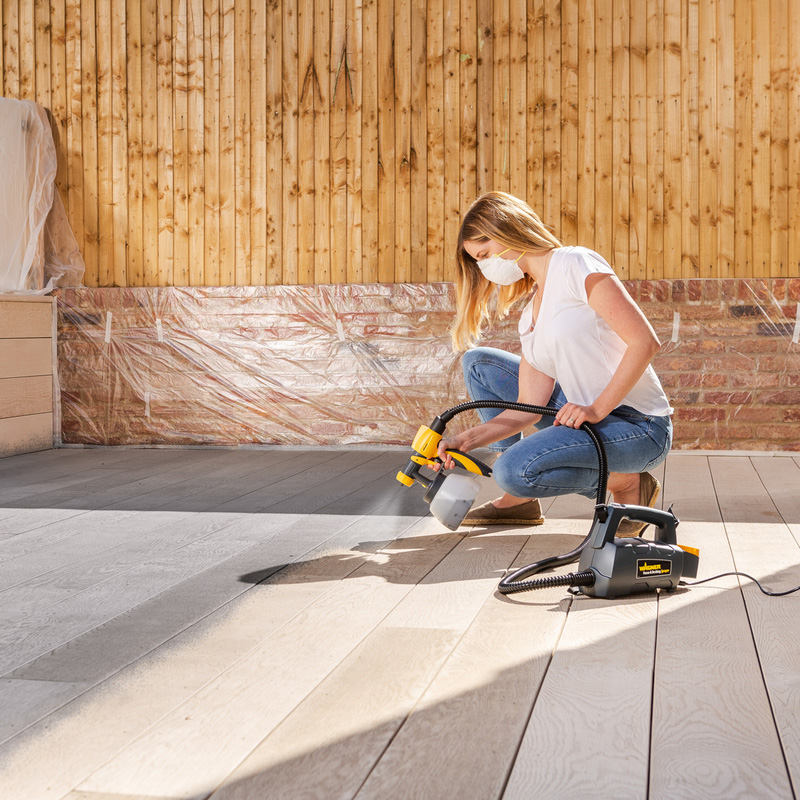 Slide 1 of 1
Revamping your decking area can not only breathe new life into your garden, but also extend the lifespan of the wood. Whether you are looking to refresh an old decking area or add a splash of colour to a newer surface, our guide will provide you with all the necessary steps to achieve a stunning result that stands the test of time and the elements.
Essential Tools & Equipment
As well as the items listed below, you will need a bucket of warm soapy water to keep your tools clean. 
Step 1: Prepare the Decking Area
Before you begin, ensure to protect any surrounding plants or grass with a protective dust sheet. 
Start by giving the deck a thorough brushing to remove any dirt or debris.
Step 2: Apply the Cleaner
Pour the cleaner directly onto the decking. 

Using a stiff brush, scrub the deck vigorously to remove all the dirt. 

Allow it to sit for 15-20 minutes before washing it off, or depending on the manufacturer's instructions.

If you scrub a small section of the decking and it's lifted some but not all of the dirt, then leave it on for a little longer. 
Step 3: Washing the Deck
For an effective clean, use a pressure washer or a hose to wash the deck. 

Ensure to work from one end to the other in a continuous motion to avoid any streaks or patches.

For more information, check out our Pressure Washer Buying Guide.
Step 4: Let the Deck Dry
Allow the deck to dry completely before painting to ensure the paint adheres well to the surface. 
Step 5: Painting the Deck
Stir the paint well before use.
Using a thick paint brush, paint three or four boards at a time in one direction to prevent overlap marks. 
Allow it to dry for four hours (or according to the manufacturer's guidelines) before applying the second coat. 
The decking will be ready to use in 48 hours.
 
Step 6: Clean Your Tools
Once you're finished, clean your tools with warm soapy water to keep them in a good condition for your next project.
Frequently Asked Questions
Can I paint an old deck with flaking coatings?
What is the best way to clean the tools used for painting decking?
How long should I wait before applying the second coat of paint?