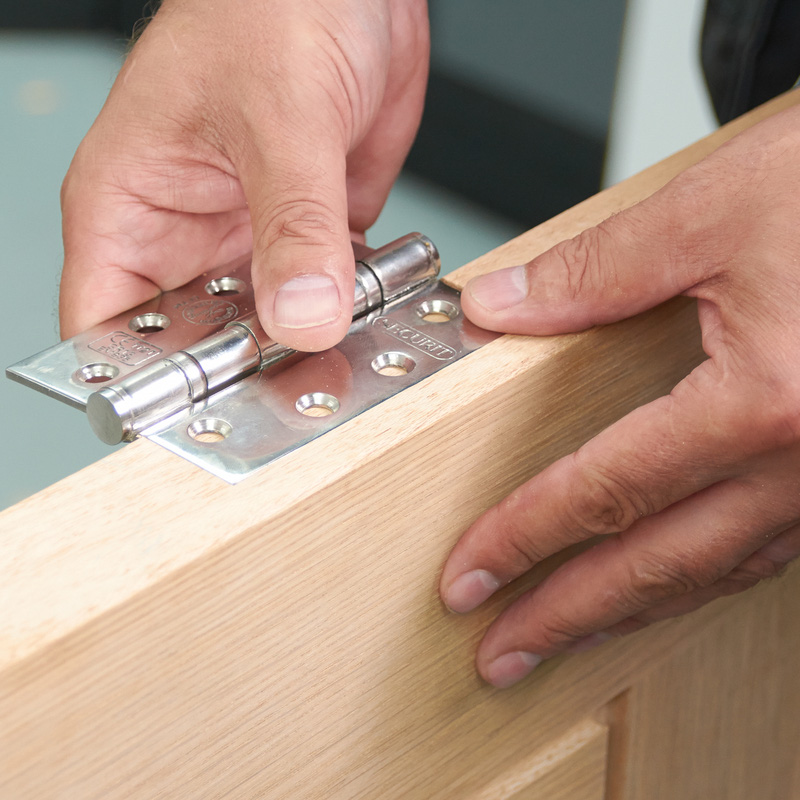 Slide 1 of 1
Hinges are often a forgotten feature on doors and gates – but they shouldn't be. When used correctly, they can act as additional protection against intruders in your home and stand up against fire in the event of an emergency.
If you're looking for a new or replacement hinge for a cabinet, door or gate, there are a number of options and things to think about. First, identify the type of hinge that best suits the use. Secondly, think about the size and mass of the door (including any added weight from door closers).
Finally, consider where the hinge will be used, which can determine whether the hinge needs to be concealed, as well as the material and finish.
Material
You'll find hinges in a range of materials which each have different qualities. Brass hinges are compact and often found on lightweight interior doors, but aren't suitable for front doors. Brass is a ductile material, which makes it both moldable and resistant to breaking. It's also resistant to corrosion and provides an attractive, traditional appearance.
Stainless steel hinges, often found on fire doors and external doors, are resistant to extreme temperatures, highly durable, and protected against rust and corrosion. You'll find some hinges referred to as 304 or 316 stainless steel, which are suitable for external use. Cast iron hinges are strong and have high corrosion and friction resistance, and also provide a traditional look.
Finish
Finishes affect the appearance and qualities of a hinge. Polished and chrome hinges have a smooth, shiny appearance and are used for internal doors that don't need extra protection from the elements. Satin hinges are also used, but have a brushed appearance and do not show marks easily – making them ideal if the hinge is more visible. 

You'll also find electro, zinc, and nickel plated options. Electroplating increases hardness and creates a protective barrier on the hinge, while zinc plating offers long-lasting protection from the elements and reduces the risk of corrosion and rust. Nickel plating can reduce the effects of friction, ideal if the hinge will be regularly used.
Size
The size of hinge you'll need depends on the weight and width of the door or gate. Heavier, wider doors need heavy-duty hinges. Standard residential interior doors need hinges that are about 75mm long. Most fire door hinges will be around 100mm long. 
Most hinges will come in a pack of two, and using them together will make them suitable for the weight specified in the product description. 
Fire Rated
Fire door hinges must be CE marked along with a Certifire identification stamp, and each fire door will need at least 3 fire door hinges.
Many fire door hinges are Grade 13 stainless steel which will stand up to fire for 60 minutes – non-graded alternatives will melt and warp or break. You'll also find lower price Grade 7 options, which will be fire-safe for 30 minutes.
Hinge Stampings & Marks
You'll find various markings and stamps on hinges, including a grade, a fire certification, a UKCA stamp, and a CE stamp. 
The hinge grade indicates the properties, such as the maximum weight the hinge can handle. A fire certification, or certifire, will be found on hinges that are fire safe. Hinges without fire certification could melt or warp in the event of a fire.
UKCA and CE markings indicate that the hinge has reached the market standards and product regulations for the UK and European markets.
Frequently Asked Questions
What are parliament hinges?
How many hinges should be used per door?
How do soft-close hinges work?
How many hinges should a fire door have?
Which way do hinges go on a door?