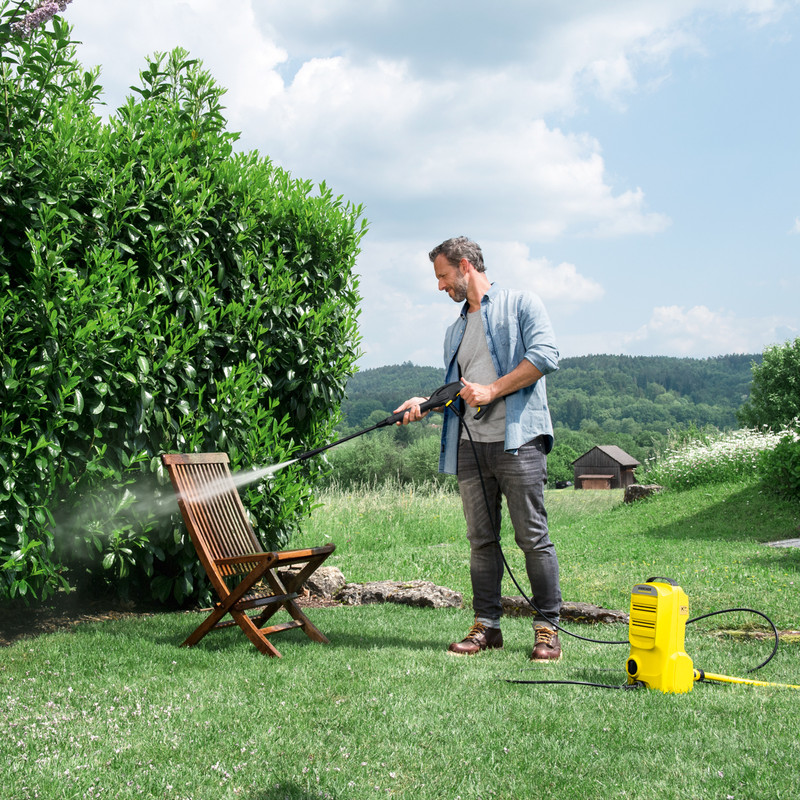 Pressure Washer Buying Guide
With our wide selection of petrol and electric pressure washers here at Toolstation, you're sure to find one perfect for your cleaning needs – from decking and bikes to motorhomes and conservatories.
To find the best pressure washer for you, you'll want to consider how regularly you're planning to use your jet washer, your budget, as well as what you'll use it for.
Freshening up your garden furniture and decking in time for summer? A light-duty jet washer with 100/110 Bars of pressure will be perfect. But if you're looking to deep clean a neglected hot tub, we recommend a heavy-duty model with 130+ Bars of pressure.
If you're looking for something more versatile, a variable power pressure washer will be ideal for smaller tasks as well as heavy-duty cleaning.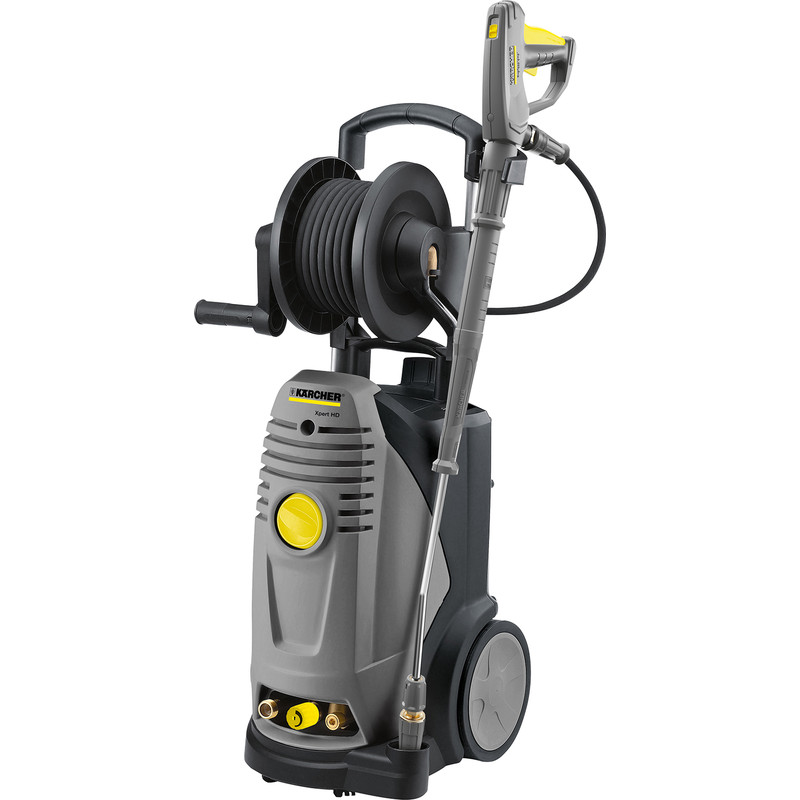 Electric Pressure Washers
Electric pressure washers are the most common type. Powered through the mains supply, they're often lower priced and quieter than petrol alternatives. You'll find them in a range of pressures, but they're especially ideal for use around the home where you'll have a constant power supply – such as cleaning decking, bikes, cars, and fences.
Once you've bought an electric jet washer, that's all you pay for. There's no need to worry about buying more fuel or investing in regular maintenance – simply store it in a secure, dry place and it'll be ready and waiting for you next Spring.
As with any corded tool, you're limited by the length of the pressure washer cable and the need for constant power supply. If you have a very large garden or need to reach far corners, you might find electric power washers limited. Additionally, some people find they're less durable for very regular use compared to their petrol counterparts.
Advantages

Minimal maintenance and extra costs

Lower priced than petrol pressure washers

Relatively quiet and lightweight

Things To Consider

Cable can limit you and increase risk of tripping

Less durable for regular use

Less reliable to take from job-to-job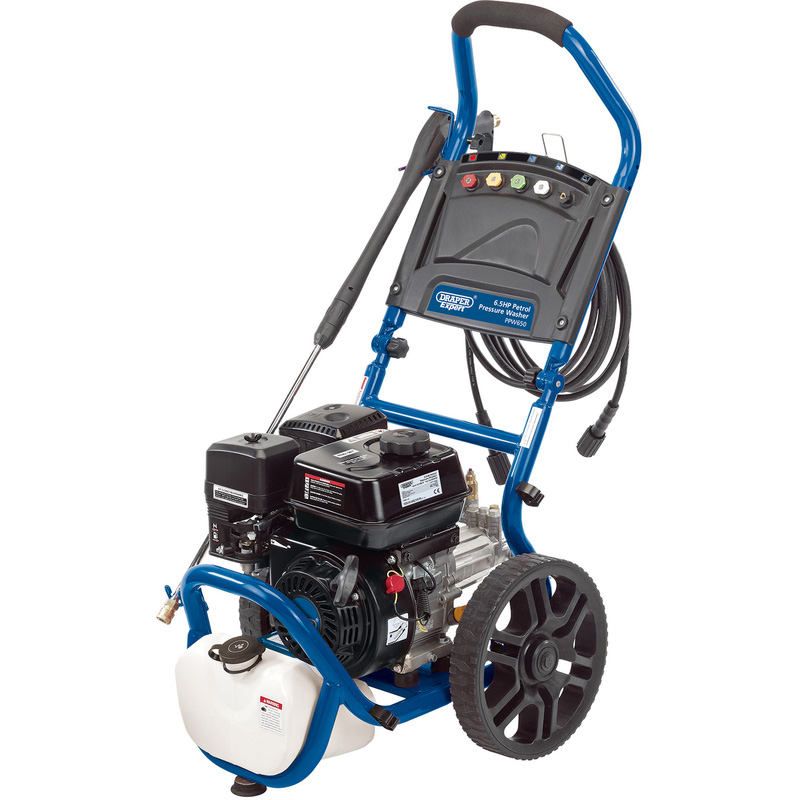 Petrol Pressure Washers
Petrol pressure washers are durable, fuel-powered models offering versatility and convenience when working job-to-job. They're highly powerful and suitable for heavy-duty cleaning tasks – at Toolstation you'll even find variable power petrol washers if you need something for light jobs, too.
With a petrol washer, you don't need to worry about tripping on trailing cables, and you can take it far from a power supply without being limited by the length of the cord. This makes petrol models ideal for tradespeople or those with larger gardens.
However, you should consider that buying a petrol pressure washer isn't the last time you'll invest in it – they require routine maintenance and fuel top-ups to keep them in great shape for years to come. Additionally, the most common petrol recently is E10 – with a greater ethanol content that can damage your washer if you leave fuel in it for long periods of time.
Advantages

Durable and very powerful

Take it wherever you like – no cable limitations

Variable power models available – ideal for light to heavy duty jobs

Things To Consider

Requires continual investment and maintenance

Petrol needs to be taken out of the fuel tank after use

Consider a sturdy fuel container for safe transportation
Key Pressure Washer Features
Pressure
When you're buying a pressure washer, one of the first things you'll need to consider is how much force you need to get the job done – without damaging the surface you want cleaned! Pressure is measured in Bar – you'll find most pressure washers range between 110 and 180 Bar.
A low pressure, 110 Bar jet washer will be perfect for cleaning garden furniture, bikes, cars and decking. You'll be able to get off most superficial dirt on most surfaces with a pressure washer with this power, but you'll struggle to brighten concrete patios.
If you're looking for something a bit more heavy duty but still DIY-friendly, 130 Bar is often more than enough to get rid of tougher stains. If you're in the trade, you may be interested in jet washers up to 180 Bar or higher – these may damage cars and garden furniture, but will clean concrete, brick, iron and stone with ease.
Hose Length
The length of a pressure washer hose starts around 3 metres, but can go up to more than 10 metres for more expensive models. Long hoses are ideal when you need to reach far corners – such as the back corner of a large swimming pool.
In smaller spaces, however, a longer hose could be a nuisance – it can get damaged by kinking or snagging, and makes the washer heavier. We recommend only choosing hoses longer than 10 metres if you regularly work in large spaces and really need the extra reach.
For extra long hoses well over 10 metres, you may also notice that the pressure is reduced slightly – but this is a negligible difference between 3 and 10 metres.
Lances
A lance is the long pipe that extends from a pressure washer trigger and shoots out water. You'll find different length lances that are suited for different tasks – a longer one, for example, will help you wash hard-to-reach areas without bending or arching your back.
Variable pressure lances, also called variable fan-jet lances, allow you to vary the force of the jet from a focused point to a broad fan.
Angled lances are ideal for cleaning underneath cars or garden furniture. Rotary jet lances spin while spraying – great for cleaning heavily soiled paving slabs, but too powerful for cars or decking.
Auto Start/Stop
An auto start/stop trigger for your pressure washer is great for saving water and reducing the time your pressure washer is on for.
If you have a large space, a pressure washer without an auto start/stop feature, and decking at the far end of your garden to clean, you'll have to run the water until you get there or recruit a family member to switch it on – this could get annoying!
Auto start/stop triggers are found at the end of the lance where you hold the pressure washer to clean, making it much easier to use – especially in large spaces. When you pull the trigger, the water comes out. When you let go, the water stops.
Pump Type
A pressure washer pump is the part that pushes the water through the hose and out of the lance with the force required to clean surfaces. There are three main types of pump: composite, aluminium, and brass.
A composite pump is best suited for pressure washers that get occasionally used, about 3 to 4 hours spread over a month as a maximum. Aluminium pumps, on the other hand, are slightly more durable and better for regular or longer use.
Brass pumps are top-of-the-market, designed for intensive use – ideal for tradespeople, but probably too much for DIYers. As expected, composite pumps come with the lowest cost, aluminium slightly higher, and brass bumps higher still.
Motor Type
The motor is the part of the power washer that's powered by fuel or electricity and makes everything else work. There are three main types of motor to choose from when buying a pressure washer: brushed, universal, and induction.
Brushed motors are the least common type used for pressure washers, but have a lower price range than universal and induction models. They're less suitable for tradespeople carrying out long jobs, but are an economical option for DIYers cleaning cars or decking.
Universal motors are small, lightweight and affordable – but less efficient and louder than induction motors. They're ideal for DIYers who aren't planning on very regular use. Comparably, induction motors are larger than universal motors but provide more power, efficiency and last longer, making them well suited for tradespeople needing regular, long-term use.
Motor Cooling Type
When choosing a motor, you can also choose between an air-cooled or water-cooled model. Motors need to be consistently cooled during use to function properly and stop your pressure washer from malfunctioning. You'll find water-cooled and air-cooled models.
Air-cooled models, as expected, use air flow via a fan to cool the motor. They're often lightweight and come with a lower price-tag. However, they tend not to be as effective as water-cooled motors.
Water-cooled models use a water tank next to the motor to cool it down. These tend to be highly effective at cooling the motor down and make for a much more durable pressure washer.
Pressure Washer Accessories
Wash Brushes
Wash brushes attach to the end of a pressure washer lance and help clean cars, greenhouses and conservatories that may need a bit of TLC.
Patio Cleaners
Patio cleaners are circular plastic hoods with a brush around the bottom edge. They stop you having to stoop and ensure dirty water doesn't spray around everywhere.
Integrated Storage
If you're short on space, or need to regularly take your pressure washer from job-to-job, integrated storage means it's all tucked in nicely into the one tool. You can tuck away cables, the detergent tank, hoses and lances so you never leave things behind.
Suction Hoses
A pressure washer suction hose allows the water to be taken from a static source instead of a tap – such as a water butt, pond, or bucket. This means you'll avoid using too much water for smaller cleaning jobs, perfect for the eco-conscious.
Detergent Tanks and Systems
Detergent tanks hold the detergent within the pressure washer system, rather than either just using water or needing to syphon detergent from a separate source. This is ideal for tough jobs that need far more than just water, whilst allowing you to still move around with ease without considering a detergent bucket.
Pressure Washer Detergents
Pressure washer detergents aren't necessary for all cleaning jobs – lots of dirt can be washed off just with the force of the water. However, detergents can improve cleaning and remove stubborn stains – dissolving dirt and allowing it to be washed away.
Our Top Pressure Washer Brands
Frequently Asked Questions
To wash most surfaces, a PSI pressure of about 1000-3000 should be ideal for home use.

A 3000 PSI pressure washer can be used for stubborn grime and dirt.

100 Bar pressure is equivalent to 1450 PSI, meaning it's on the lower end of force offered by some pressure washers, but will be perfectly suitable for smaller scale jobs such as cleaning cars, bikes and garden furniture.

A power washer and a pressure washer are the same thing – using a pump and a motor to spray grimy surfaces like garden furniture or conservatories clean.

You can buy and use a pressure washer at any time of year, but they're more popular in Spring and Summer when you're looking to freshen up your outdoor spaces.

When you're buying a pressure washer, you'll want to consider how much you'll use it, how dirty the area you need to clean is, and your budget. If you're cleaning a large, dirty space far away from a power supply you'll be best suited to a petrol power washer to give you the force, durability and convenience needed to get the job done.

Electric pressure washers are more common than petrol washers, but both have their advantages and things to consider. If you're using an electric power washer, then you'll need to stay close by to a power supply, but these models can be lower priced compared to petrol models. However, petrol washers tend to be more durable and come with the convenience of taking them as far from a power source as you like.

A pressure washer can save you a lot of time and effort washing very large, dirty areas such as decking or cars. They are an investment – more expensive than a simple hose and sponge – but can save hours of scrubbing time and can last many years if maintained correctly.

Pressure washers can last many years as long as they are stored correctly in a cool, dry place such as a shed when not in use. Petrol jet washers are often thought of as more durable than electric models, but require more maintenance to keep them in a good working condition.

Lower pressure jet washers can cost just over £60, but high pressure jet washers can go up to thousands of pounds. The right pressure washer for you depends on your budget and whatever it is you want to clean.

Concrete is one of the harder materials to clean, especially compared to cars or decking. To effectively and quickly clean concrete with a pressure washer, you'll want a model with 3000 PSI (206 Bar) or greater.

You should power wash a house between once a year to once every three years. If you live in a particularly dusty or polluted area, you may notice you'll want to clean it more regularly to keep your home looking fresh.

You can pressure wash brick, but it's not as hard as concrete, so you should avoid using a jet washer with a PSI greater than 1500. You want to clean a brick wall with enough pressure it can stand and no more, because you could damage it – especially if the building is old.

For the first five to ten years after being installed, a roof shouldn't need cleaning. However, after that, you'll want to maintain the condition of the roof by power washing once every 3 years or so.