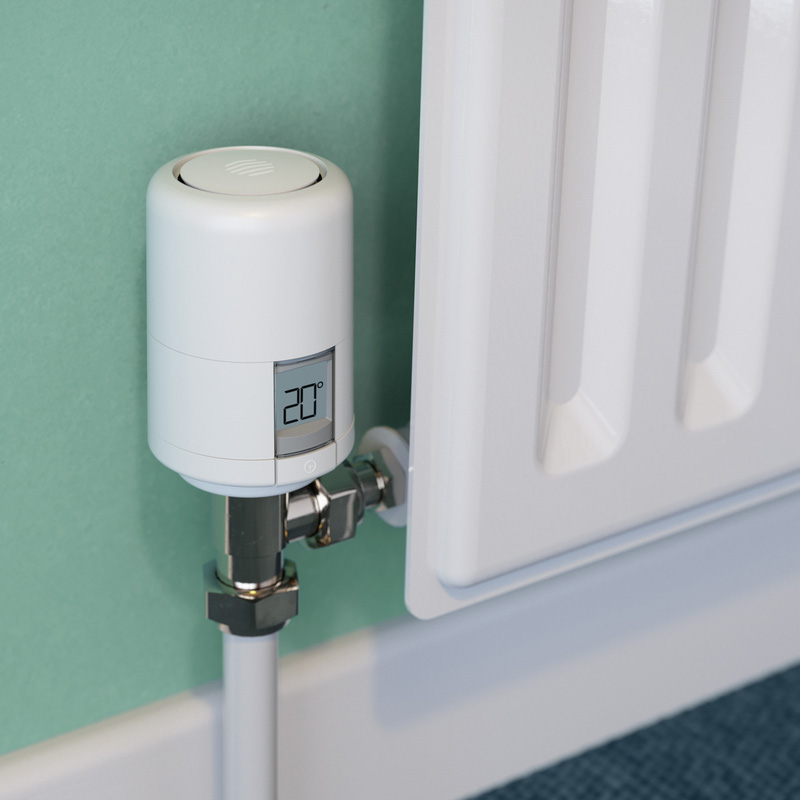 Radiator Valve Buying Guide
Slide 1 of 1
Radiator valves control the flow of hot water into your radiators so they can heat up the room. By opening up the valve, more hot water can flow into the radiator and warm up your property, whilst a closed valve will shut off the water supply. 
There are four main types of radiator valve to choose from: thermostatic, manual, smart thermostatic and dual fuel. Your choice will depend on your routines and energy usage, how often you need a room heated, and your budget – both upfront and long-term.
The hot water pipes in your central heating system, as well as the radiator inlets – where the water goes in – will impact the type of radiator valve you need, as well as any add-ons such as extension valves. 
Types of Radiator Valve
There are four types of radiator valves: manual valves, thermostatic valves, dual-fuel valves and smart thermostatic valves. 
Key Radiator Valve Features
Valve Position
Radiator valves need to be compatible with the position of the inlets and the hot water pipes. The most common valve position in the UK are angled valves, which are ideal for homes with pipework coming up from the floor or from the wall behind. Straight valves are used when the water flows straight along a wall or up from the floor in the radiator with no angles. Corner valves are similar to angled valves but don't stick out from the bottom of the radiator as much.  
Extension Valves
Extension valves are used to bridge the gap between the radiator and the main valve, which can increase flexibility during installation of new valves and radiators. You'll also find rigid radiator valve extensions which can be cut to size for added flexibility.
Drain Valves
Drain valves allow you to drain your central heating system or individual radiators if you have a problem like a leak or sludge build up. They are often fitted on your lowest radiator, the one closest to your boiler, usually on the flow side. To use a drain valve, a hose is fitted to it and the tap is opened.
Lockshield Valves
Lockshield valves are found on every radiator, and they control the amount of water flowing back into the pipes - helping to balance your central heating so you can efficiently heat your home. Lockshield valves are generally only adjusted by engineers working on the system. Universal valve caps can replace the existing cap if it's lost or discoloured.
Colour
Many valves will come in white, or a combination of white and chrome, which will often match the radiator. However, you can also find radiator valves in modern and traditional styles and a range of colours including anthracite, bronze and chrome. This way, you can choose the style that suits your style and your existing radiator.
Our Top Radiator Valve Brands
Frequently Asked Questions
How does a radiator valve work?
How do you change radiator valves?
What are the two valves on a radiator for?
What are thermostatic radiator valves?
How do thermostatic radiator valves (TRVs) work?
What do the numbers on radiator valves mean?
Why can't thermostatic radiator valves be used in the same room as thermostats?
What are the two valves on a towel radiator for?
Which side of the radiator is the lockshield valve?