Looking for the best radiator for your living room, bathroom or kitchen? There's lots to consider – including the size of the room, the heat output needed, and the style you're after.
The most common radiator types are single (Type 11), double (Type 22), and double plus (Type 21) steel panel central heating convector models.
Smaller rooms will suit Single Panel radiators – while Double or Double Plus are best for medium to large rooms.
Recently, designer radiators such as dual-fuel and electric-powered towel warmers, and vertical radiators have grown in popularity – offering high-powered heating without sacrificing style.
Convector Radiators
Convector radiators circulate hot water through a tube surrounded by metal convection fins. These fins conduct heat from the tube and create a larger surface area with the surrounding air – allowing them to heat your rooms incredibly quickly.
Here at Toolstation, you'll find convector radiators in three main types: Single Panel, Double Panel, and Double Panel Plus.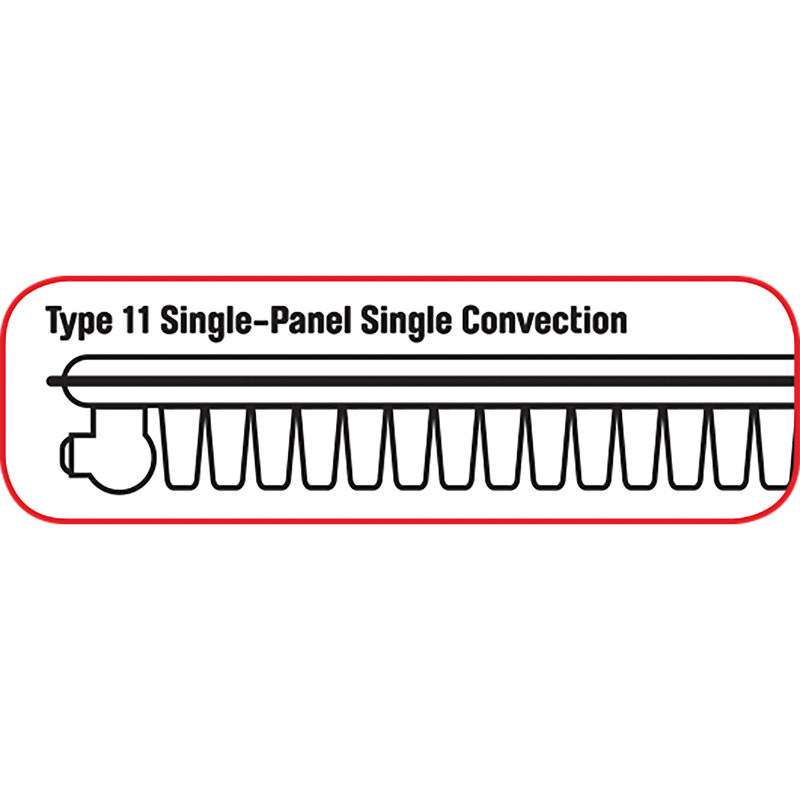 Single Panel Radiators (Type 11)
Single Panel radiators, also known as Type 11 radiators, have a single, glossy metal panel with convection fins bolted on the back side – perfect for efficiently and affordably heating smaller rooms such as bathrooms or narrow hallways.
With only a single panel and layer of convection fins, Type 11 radiators are incredibly slim, too – helping to free up valuable space in narrow hallways and rooms with a smaller footprint.
They're best suited to smaller rooms because they emit less heat – you'll want to upgrade to a double panelled model if you're heating anything much larger than a bathroom.
Advantages

An economical radiator for smaller rooms

Slimline design fits rooms running low on space

Impressive heat output despite slimmer size

Things To Consider

Lower heat output than Type 21 and Type 22 models

Less suited for medium to large rooms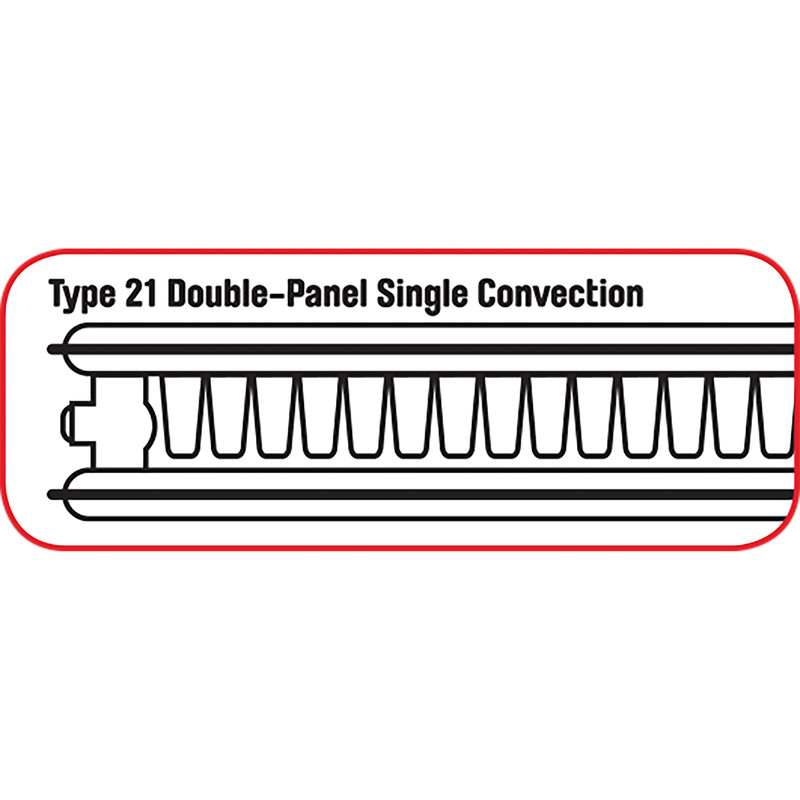 Double Panel Plus Radiators (Type 21)
Double Panel Plus radiators, sometimes called Type 21 radiators, have a glossy metal heating panel on the front and back, and one layer of convection fins.
Type 21 radiators have a higher heat output than single panel models thanks to the extra surface area from the second panel, making heating larger rooms kinder to your wallet.
There's only one layer of convection fins with Type 21 radiators so less hot air is moved around – meaning the heat output isn't as high as Type 22 models.
Advantages

Higher heat output than Type 11 radiators

Slimmer than Type 22 models

Will save money in the long run through efficient heating

Things To Consider

Lower heat output than Type 22 models

Higher initial cost than Single Panel radiators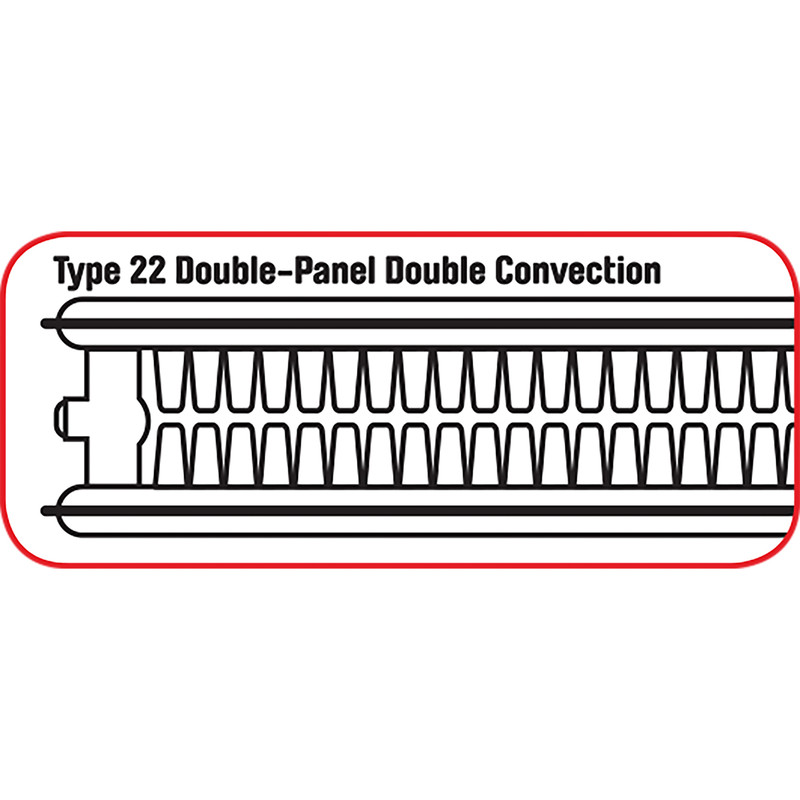 Double Panel Radiators (Type 22)
Double Panel, also called Type 22 radiators, have a glossy metal panel on the front and back, and two layers of convection fins in-between. They offer a higher heat output than single panel models because of the extra surface area from the second layer of fins.
They're an economical option for medium to large rooms thanks to their higher heat outputs – warming quickly to limit the time your central heating is kept on.
Type 22 radiators have a higher price tag than single panel models – reflecting their power. They also have more depth because of the extra layer of convection fins, making Double Panel radiators less suited for narrow spaces.
Advantages

Higher heat output than Single Panel radiators

An economical option for medium to large rooms

Things To Consider

Cost reflects the greater heat output

Thicker design less suited for narrow spaces
Designer Radiators
Looking for radiators that'll bring more than just heat to your rooms? Then our statement-making, high-power designer radiators are the perfect choice for you!
At Toolstation, you'll find everything from designer vertical radiators to towel warmers – all available in a range of styles, colours, powers and sizes to best suit your space.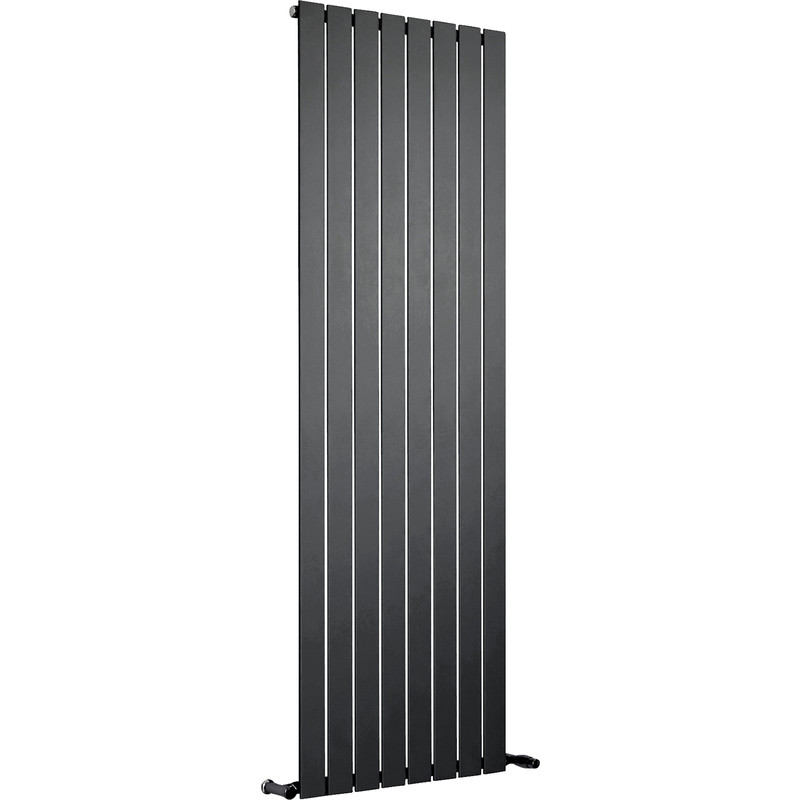 Vertical Designer Radiators
Vertical designer radiators combine modern style with a tall, slim design – ideal for rooms needing a high heat output but running low on wall space. Pairing with a dual-fuel valve means they can be powered by central heating or electricity – ideal for summer months when your central heating is off.
You may be wondering – since heat rises, are vertical radiators less efficient? The answer's no! As the air gets to a higher temperature and moves faster, it'll travel quickly around the room instead of rising to the ceiling.
Upgrading from a panelled convector radiator? Switching to a designer vertical radiator may require pipes to be moved around. Additionally, these types of radiators cost more than standard panelled models – reflecting their powerful and stylish designs.
Advantages

Attractive, modern style to compliment a room

Versatile for all room types

High heat output, via electric or central heating

Things To Consider

Higher price to reflect quality and heat output

Newer – more difficult to find like-for-like replacements

Panel to vertical radiator upgrade means moving pipework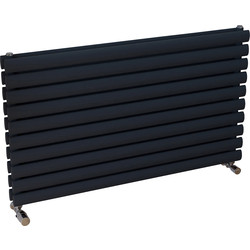 Horizontal Designer Radiators
Horizontal designer radiators are a modern, more attractive alternative to steel panel radiators – with a high heat output for medium to large rooms.
There are a large range of styles, sizes and colours of horizontal designer radiators available, so you can find the perfect model for each room in your home, without compromising on space or aesthetics.
Like vertical designer radiators, they have a higher price tag to reflect their power and modern appearance, but unlike vertical radiators, they're best suited for larger rooms where space-saving isn't crucial.
Advantages

High heat output

Large range of colours, styles and sizes

Easier to upgrade from steel panel types than vertical radiator types

Things To Consider

Higher price tag to reflect power and aesthetic

Less space-efficient than vertical models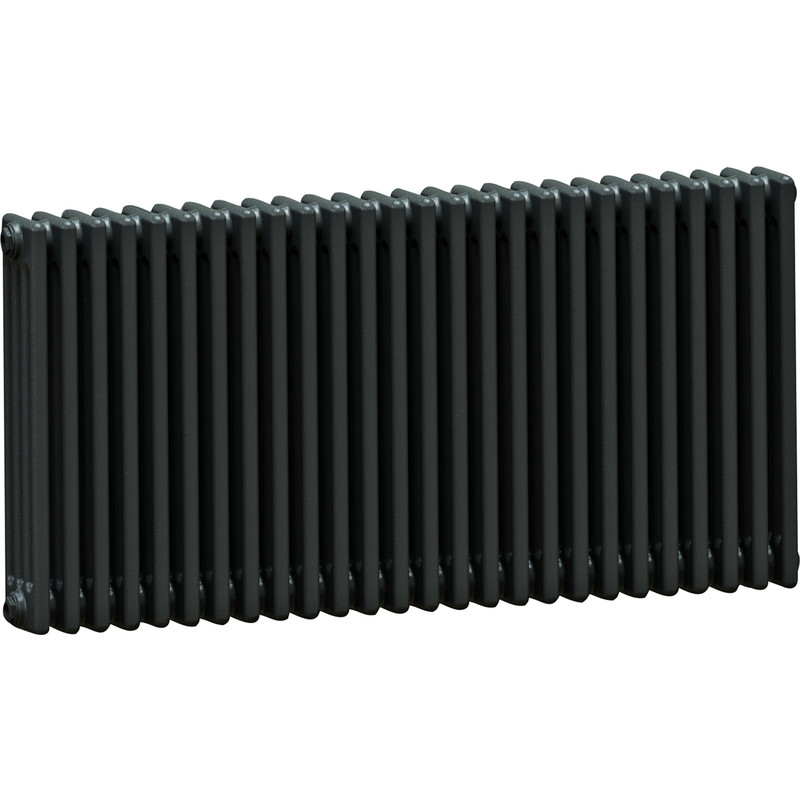 Column Radiators
Column radiators are traditional-looking models made up of hollow, vertical tubes. The 'columns' work to warm the surrounding air – with the space between each tube creating a large surface area for high-power heating. Despite their vintage look, column radiators are very efficient and can match the heat output of other modern radiators.
These types of radiators have the flexibility for wall-mounting or floor standing. And, with a range of shapes, colours, finishes and styles available, you're bound to find the perfect model for your space.
The surface of the radiator can also get very hot meaning they come with a higher risk. Additionally, column radiators, especially if floor standing, are bulkier – so they're less suited for rooms running low on space.
Advantages

Attractive, traditional style

Wide range of styles, colours and sizes

Things To Consider

Bulkier than some designer and panel alternatives

Surfaces can get hot – increasing risk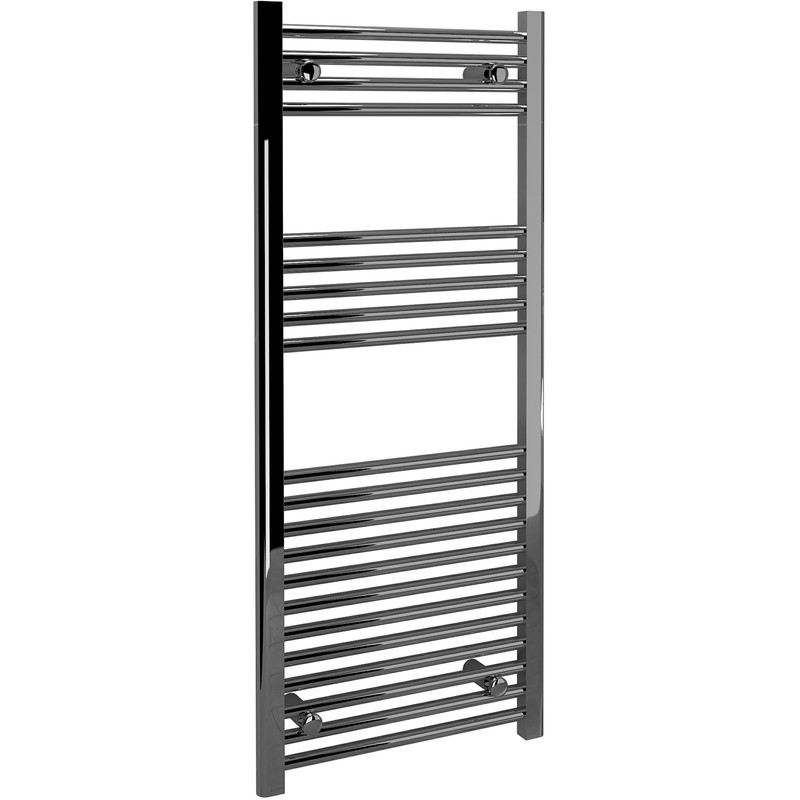 Towel Radiators
Towel radiators are used to dry wet towels (reducing mildew) and heat bathrooms. While towel warmers are usually smaller than traditional radiators, their sleek designs will help to spruce-up your bathrooms in a big way!
You'll find a range of sizes, BTU outputs and styles on offer – including flat ladder, curved ladder or traditional column models – so you'll always find the perfect radiator for your space.
Towel radiators can get hot, which can be risky, especially if you have young children – you'll find Low Surface Temperature alternatives if this is a concern. They can also be difficult to move if you want to redesign your bathroom because pipework may need to be rearranged.
Advantages

Reduces mildew growth on towels

Makes bathrooms more comfortable in winter

Large range of sizes, power and styles

Things To Consider

Surface can get hot unless using a LST type

Difficult to move around during bathroom redesigns

Electrician needed for dual-fuel installations
Radiator Power Sources Explained
Central Heating Radiators
As the name suggests, central heating radiators are powered by a plumbed-in hot water central heating system. Central heating radiators work by filling up with hot water to heat the metal, which is then radiated into the room.
They're fully controllable, meaning you can set each room to a different temperature and schedule different times to heat a room.
Electric Radiators
Electric radiators are filled with a heat-conducting oil or glycol, and use electricity to efficiently heat a long metal rod inside – converting all the energy into heat to radiate throughout rooms faster than central heating.
Installation is simple and inexpensive because you don't need to lay pipework – although you will need an electrician to install the radiator into the electrical system with an isolation switch. After installing the radiator, very little maintenance is needed.
Each radiator is powered individually rather than centrally. Thermostatic versions allow you to control the temperature via the heating element, others allow you to set schedules and timers, and some can even be controlled with smart Bluetooth thermostats.
Dual Fuel Radiators
Dual fuel radiators can be powered with central heating or electrics with the simple addition of a heating element and a dual-fuel radiator valve.
As long as the heating element is fitted safely, most radiators can be turned into a dual fuel model.
Towel radiators in bathrooms and ensuites are often dual-fuel so you can still use them in summer when the central heating is off to dry your towels and reduce mildew.
Radiator Features
BTU
BTU stands for British Thermal Unit. It represents the amount of energy taken to heat a pint of water by one degree fahrenheit. Every radiator has a BTU – with the higher the BTU, the higher the heat output.
Each room in your home needs a different BTU to keep it warm depending on the number and type of windows you have, and the size of the room itself. If you have single glazed windows, you'll need a higher BTU than double glazed windows. Find out the required BTU for your room using our handy BTU calculator.
Once you know your room's requirements, you'll need to find a radiator (or multiple radiators) with the BTU output to match.
Colour
Radiators may be an essential part of your home, but that doesn't mean they can't complement each room and its style. Our range of radiators – from central heating to designer – come in white, chrome or anthracite.
You can paint radiators with radiator paint or metal paint designed to withstand high temperatures, giving you even more flexibility when designing your space.
Material
The most common material for radiators is steel, which retains heat for a long time even after the radiator is turned off – meaning the room stays toasty for a while.
Aluminium designer radiators are also popular because they conduct heat faster, meaning they heat up rooms quickly.
Radiator Valves
Radiator valves are sold separately to give you freedom to choose how you want to control your heating.
We stock four types of radiator valves: thermostatic, which auto-adjust based on the room temperature; manual, which turn on and off like taps; dual fuel, to heat a radiator using electricity or hot water; and smart valves – allowing you to remotely set temperatures and heating schedules for each radiator from your smart device.
Radiator Keys
Radiator keys are an essential accessory for your central heating radiators, and are primarily used to bleed a radiator of excess air and keep it working at maximum efficiency.
Frequently Asked Questions
Generally, the surface of a classic hot water or electric-powered radiator is around 70°c to 90°c. You can find Low Surface Temperature (LST) radiators designed to not exceed 43°c – ideal for places such as schools and offices.

Type 21 radiators have steel panels on the front and back side to radiate heat, with a single layer of convection fins in between.

Whereas Type 22 radiators, have two layers of convection fins in between the front and back panels.

The best radiators depend on your space and your budget, but designer models are often thought of as the "best" because they combine high power with an attractive and modern style.

BTU stands for British Thermal Unit and represents the energy needed to heat a pint of water by 1°F. Each room has a different BTU requirement, and each radiator has a BTU output.

The room size, the number of windows, the glazing of the windows, and even which direction the room is facing can impact the BTU needed.

Asking yourself 'what size radiator do I need'? It can be overwhelming with all the options available. The best way to figure out what size radiator you'll need is by working out the BTU needed in the room. To calculate the rough BTU required, use our handy BTU calculator and fill in the dimensions and features of the room.

At Toolstation, you'll find a wide range of radiator sizes — especially when you take a look at our luxury and designer models. However, for many of our standard central heating radiators, the sizes range from 600mm to 1200mm in length, and 300mm to 600mm in height.

The difference between single and double radiators is a second panel on the back of the radiator which provides extra surface area to push more heat out into the room. Double Panel (Type 22) radiators also have an extra layer of convection fins which makes it thicker — whilst Double Panel Plus (Type 21) radiators have two panels and one layer of fins which makes for a sleeker design.