Whether you're a professional or a keen DIYer, chances are you'll need a selection of screws for that next big job. But with so many types of screw available, each one designed for a different material and surface, making the right choice for your project can be a nightmare!
When you're considering which type of screw you need, there are a few main things to consider. Firstly, you need to choose the right type of screw. Choosing the wrong screw type for the job can damage your surfaces, your tools, and the screw itself.
Secondly, make sure to choose the right size screw. A screw that's too short won't hold the materials together, while a screw that's too long could go right the way through the material or damage wiring or pipework in walls or floors. Similarly, a thick screw may damage brittle surfaces, while a thin screw might not be strong enough for the job.
Finally, consider the screw features. This includes the drive type, the head type, the material, thread, and even the colour of the screw.
The Parts of a Screw
A screw is made up of four parts. The tip is the part of the screw that penetrates the material when driven in – and is either pointed or flat depending on the screw's primary use and whether there is a pre-drilled hole. Self-tapping screws have a split point that cuts into the surface like a drill bit.
The screw thread wraps around the shank. These parts of the screw drive into the material and secure it. There are different types of shanks and threads, including twinthread screws which have two threads running along the shank and can be driven and removed faster, and hold materials more securely.
The head of the screw differs across screws and determines the drive type, meaning the type of screwdriver you'll need to turn it. Each drive type has its own pros and cons, such as higher or lower torque – also known as the force required to rotate the screw.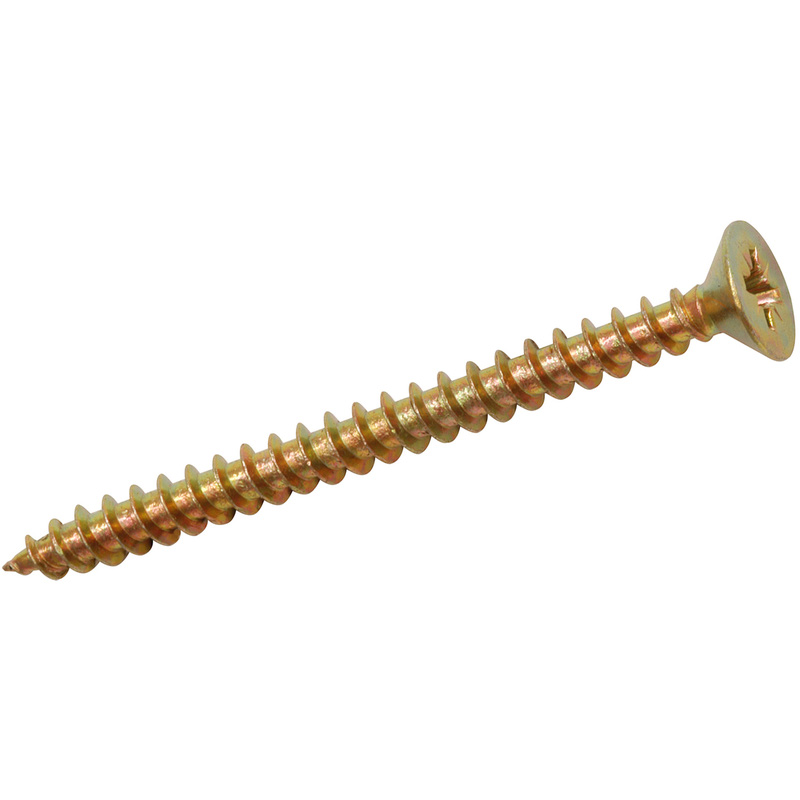 Wood Screws
Wood screws, as the name suggests, are made for use in hard and soft woods – as well as MDF and chipboard. They're one of the most popular and inexpensive types of screw available. They're stronger than nails because the threads bury themselves into the wood and create torque between the screw head and the wood.
They're easier to install than other screws because of the very sharp tip, whether you're driving into hardwood, softwood, or particle board.
If you're drilling into hardwood, you may want to consider drilling a small pilot hole because most wood screws have a Phillips head which offers less torque – meaning you may struggle getting the screw into harder surfaces.
Advantages

Versatile and inexpensive

Easy to install because of a very sharp tip

Threads create torque between wood pieces and screw head

Things To Consider

For hardwood, a pre-drilled pilot hole can help installation

Most have Phillips screw heads, which offer less torque than other drill head types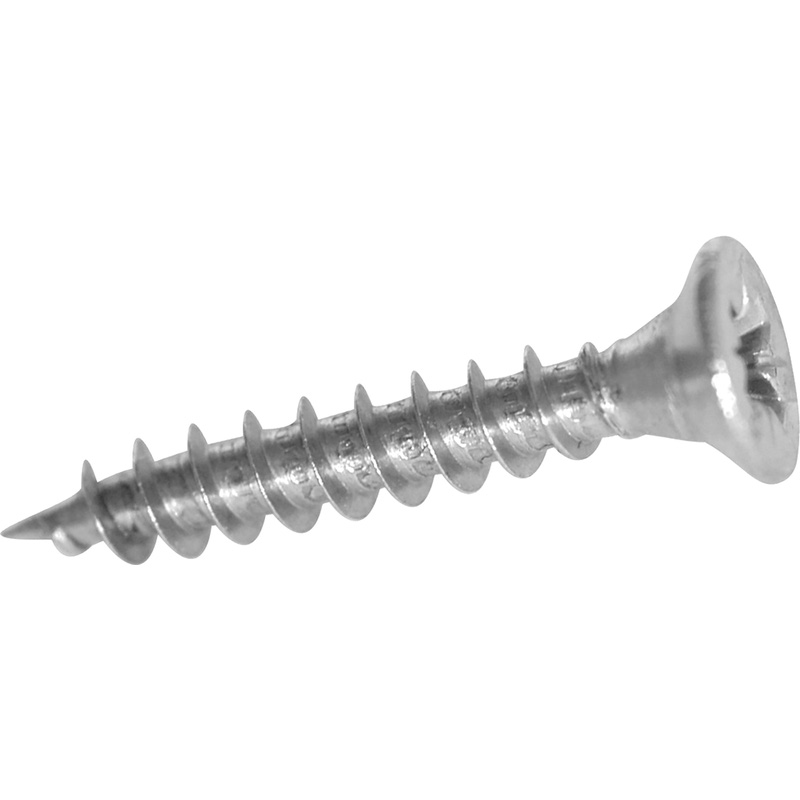 Stainless Steel Screws
Stainless steel screws are used for various situations such as building, construction, renovation and home improvement. They're suitable for both hardwood and sheet metal, and ideal for outdoor use because they're naturally rust proof and resistant to corrosion.
They can tolerate very high and low temperatures, and are suitable for boats and salty environments, making them very versatile.
Although stainless steel screws are versatile and strong, you should consider specialist screws for different purposes such as decking or roofing. These will be made especially for these environments, keeping the specifics of the surfaces and conditions in mind.
Advantages

High corrosion and rust resistance

Suitable for high and low temperatures, and salty environments

Things To Consider

Use specialist screws where possible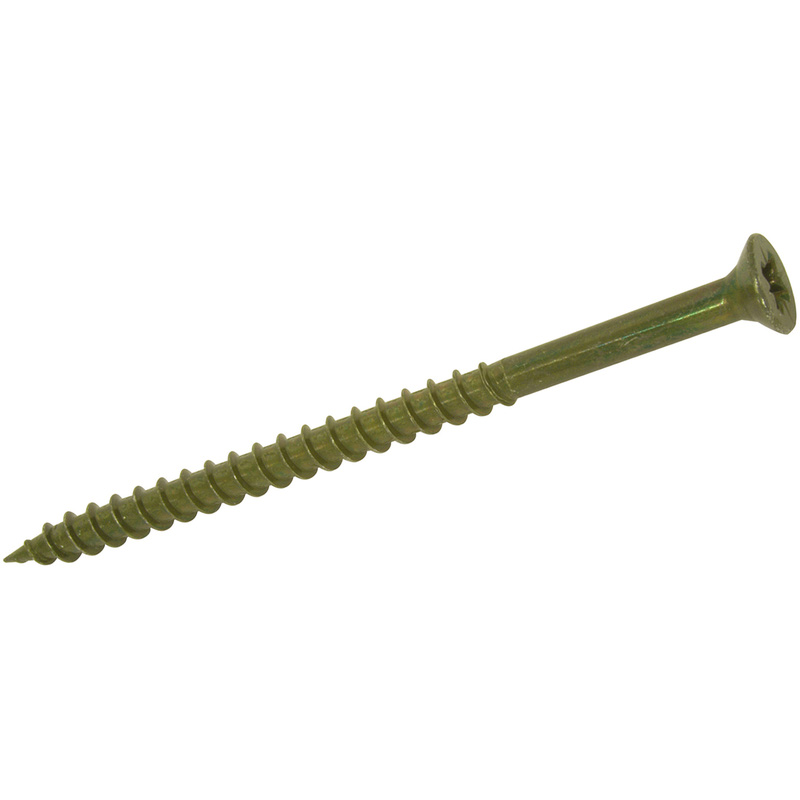 Decking Screws
Decking screws are used to attach pieces of outdoor decking to each other. They're specially designed for outdoor use, and are made of hardened steel with a corrosion-resistant coating to protect from the elements and foot traffic.
The shank of decking screws is partially threaded and tapered to a sharp point, which locks the screw in place – meaning they're highly secure. They also have a countersunk, torx head which allows greater torque to be applied for a tighter fit.
In marine environments, stainless steel screws will be a better option because they are slightly more corrosion resistant for the harsh, salty conditions.
Advantages

Corrosion-resistant coating protects from the elements

Breaking fins help lock the screw in place for greater security

Countersunk torx head allows greater torque to be applied

Things To Consider

Not as corrosion resistant as stainless steel

Less suitable for marine environments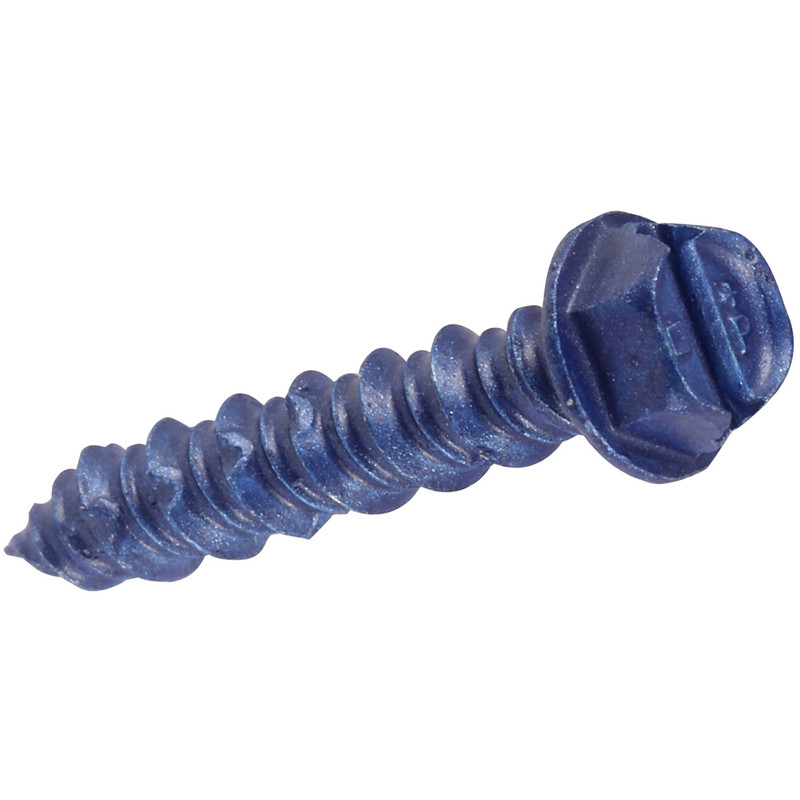 Speciality Screws
Each project will have different requirements, and you may find that speciality screws will be better suited to your situation. They come in a wide range of thread, head and shank types to suit each specific project, giving you peace of mind that you won't need to replace fixings regularly and you can trust that they'll stand up to their environment.
For example, confirmat screws are designed for furniture assembly, whilst a self-countersink screw is best for walls and floors for a flat, seamless finish. Need to fix a mirror to the wall? You'll also find various corrosion-resistant screws for outdoor use, alongside many others.
Choosing a speciality screw over a generic type such as stainless steel or wood screw may come at a higher cost which you'll need to consider. However, it's always best to use the right fixing for specialist jobs as they'll stand up to the task, last longer, and not cause damage to your surfaces.
Advantages

Less damage caused when using the appropriate screw

Able to deal with harsh pressures of the environment where necessary

Less likely to need replacing if you use the correct screw for the job

Things To Consider

Higher cost than more common screw types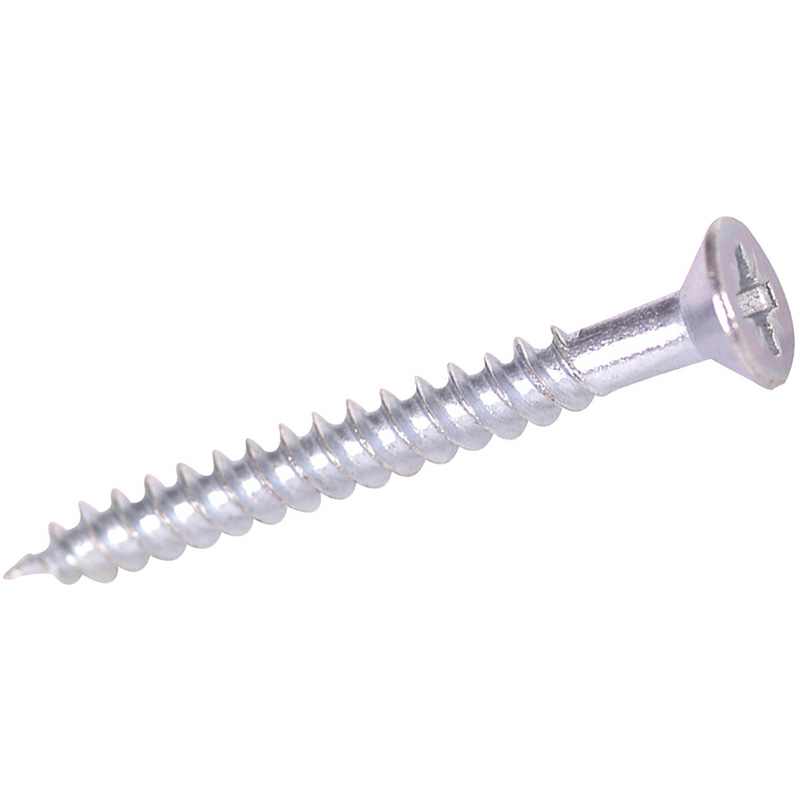 Twinthread Screws
Twinthread screws, also known as double thread screws, are used for hardwood, softwood, masonry with wall plugs, or for fixing plasterboard or fibreboard to timber studs. They have two threads running along the shank which means they can be installed and removed twice as fast as a single thread screw – perfect for jobs requiring a lot of driving into surfaces.
As well as being quicker and easier to install, they can provide a more robust fastening as they create more torque between the surfaces. They use a pozidriv drive type in order for more torque to be applied during installation – ensuring a more secure fixing.
Because of the extra benefits offered by twinthread screws, they generally come at a higher price than their single thread counterparts.
Advantages

Versatile across wood, masonry and plasterboard surfaces

Install and remove twice as fast as single-thread screws

Provide a robust fastening

Things To Consider

Often more expensive than single thread alternatives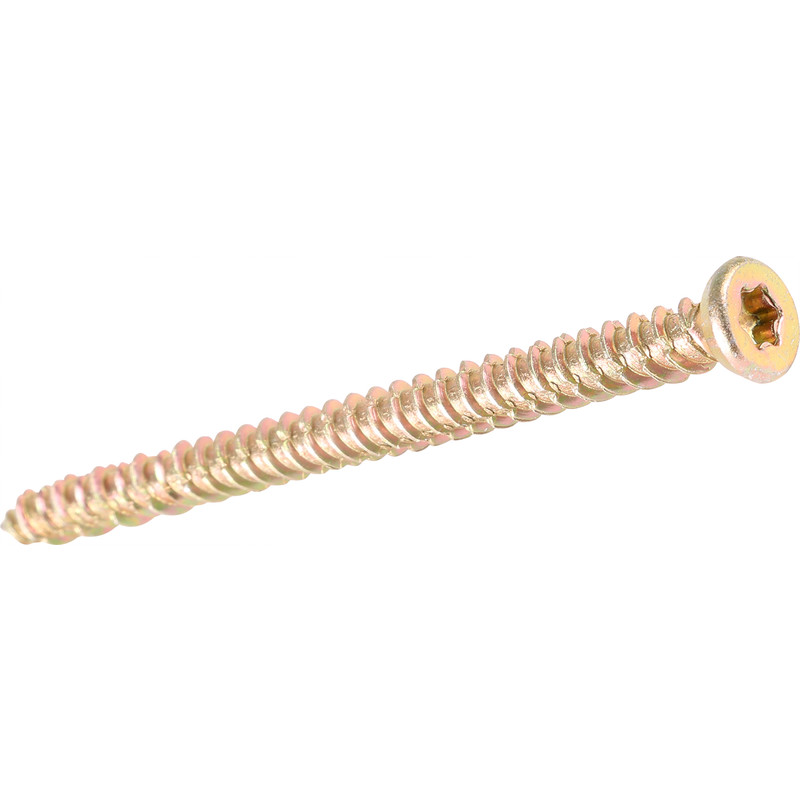 Masonry Screws
Masonry screws, also known as concrete screws, are used for a wide variety of materials including brick, concrete, block and mortar joints. They're suitable for heavy-duty applications, making them a stronger, more robust alternative to other screws.
They have a long body and deep, full thread to provide extra security, and are made of carbon steel or stainless steel and often zinc-plated – making them corrosion resistant. They're designed for quick and efficient installation in the hardest surfaces.
Because of the strength of masonry, a pilot hole is highly recommended to make installation easier and to avoid damage to the surface or the screw. They can also be pricier than more common types of screw, but there's no comparison when it comes to strength!
Advantages

Suitable for a wide range of heavy-duty masonry, including outside

Unique structure offers extra resistance and security to the fixing

Designed for quick and efficient installation in the hardest surfaces

Things To Consider

Higher cost than more common screw types

Pilot hole recommended to avoid damage to the surface or screw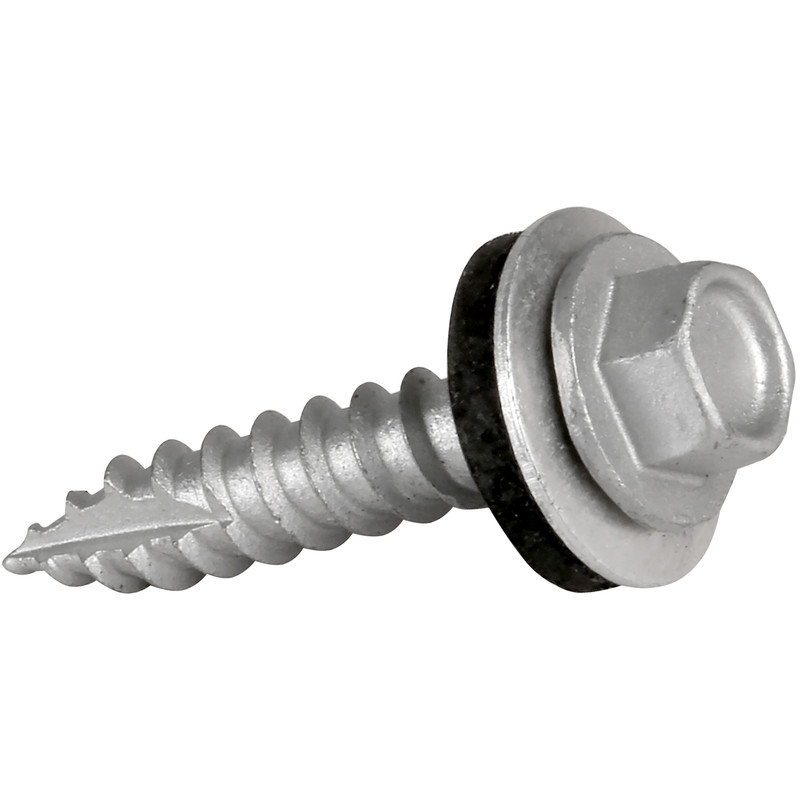 Self-Drilling Roofing Screws
Self-drill roofing screws don't need a pilot hole, thanks to the tip of the screw resembling a drill bit – essentially, they drill their own hole into the surface on the way in. They're ideal for materials such as wood and metal, and are mainly used in roofing projects but can be used elsewhere if necessary.
As no pre-drilling is required, they make less mess and allow for a speedier installation. Self-drilling roofing screws are also corrosion and rust resistant, perfect for outdoor environments and harsh weather. Some self-drill roofing screws even come with a bolt-like head and a washer for easy tightening and loosening.
When removing self-drilling screws, the threads can strip – meaning you'll need a new, larger screw to secure the surface if necessary. Be wary of the amount of force and RPM you're applying when driving in self-drilling screws, as the tip is susceptible to melting, chipping or splitting if too much force is applied.
Advantages

Mess-free installation

Speedy – no need to pre-drill holes

Corrosion and rust resistant

Things To Consider

Threads can strip during removal – larger replacement screw needed

If too much force is applied, the drill tip can melt, split or chip

Over or under tightening could create leak points
Machine Screws
Machine screws are a common type of fixing, often used on electronic devices, machinery and vehicles – whether you're a tradesperson or DIYer, you'll probably have come across them. They're used in pre-drilled holes because they have a flat tip.
Machine screws are threaded along the entire shaft, making them very secure in the surface. They're designed to be easily and quickly installed with a screwdriver, making them very DIY-friendly.
You'll need to have a pilot hole drilled before driving the screw, which can be difficult in some surfaces. Some machine screws come with a nut for extra security, but you need to ensure the nut thread matches the screw or you'll have trouble driving the screw in.
Advantages

Fully threaded, making them very secure

Wide variety of sizes for different projects

Easily installed using a screwdriver

Things To Consider

Pre-drilled hole is necessary because of flat screw tip

If using with a nut, the nut threads need to match to the screw threads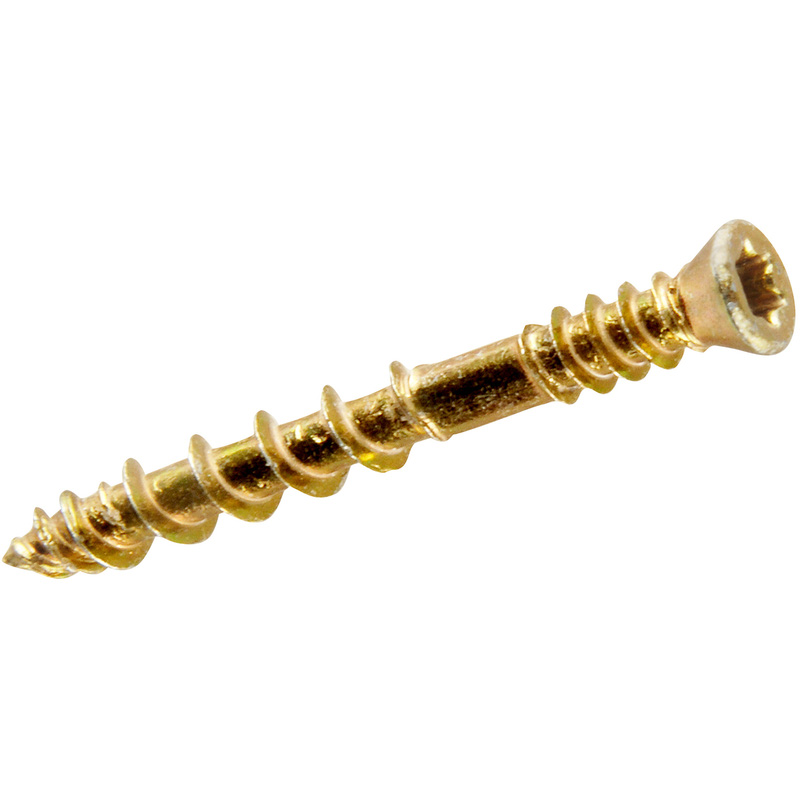 Flooring Screws
Flooring screws can be used on a wide range of flooring types, including softwood, hardwood and fibreboard. They're easy to install, discreet in the floor, and hardwearing to cope with a lot of foot traffic. They often have a torx or pozidriv drive type, meaning a high level of torque can be applied for a secure fixing.
There is generally no pre-drilling required and flooring screws are designed to prevent floorboards from splitting. The secure fit when using flooring screws compared to a generic screw results in quieter, non-squeaking floors.
You'll want to consider a small, undercut head to prevent splitting, reduce rough edges on the screw head (burrs), and conceal the fitting.
Advantages

Easy to install, discreet, and hardwearing

High torque can be applied for a secure fit – reducing squeaky, noisy floorboards

No pre-drilling required

Things To Consider

Consider a small, undercut head to prevent splitting and conceal the fitting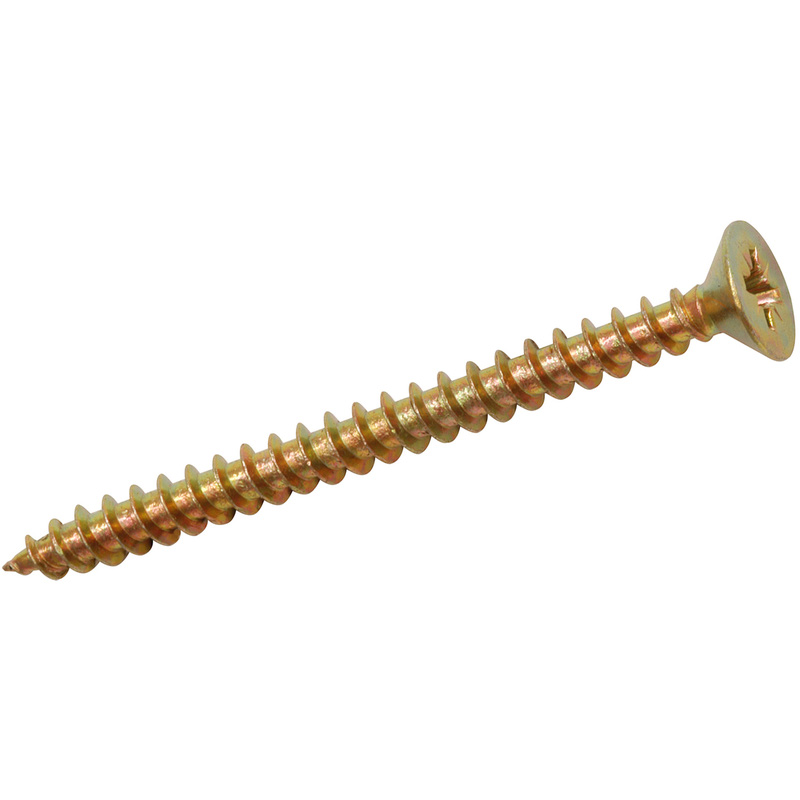 Self-Tapping Screws
Self-tapping screws create the thread as it's being driven into the material. They're not to be confused with self-drilling screws, which create their own pilot hole. Self-tapping screws ensure a strong, tightly fitting thread and are a very secure type of fixing.
They're compatible with a range of soft materials that could be susceptible to damage, such as soft and hard wood, metal, and plastic. There are a range of types of self-tapping screw, including zinc plated which can offer corrosion resistance for outdoor use.
Unlike self-drilling screws, self-tapping screws require a pilot hole before installation to avoid cracking or damaging the material you're working with. This takes extra time, particularly if you're needing to install a large number of screws. Self-tapping screws are also not suited to heavy-duty jobs, meaning their use is limited.
Advantages

Strong, tightly fitted type of fixing

Compatible with a range of materials typically susceptible to damage

Zinc-plated options can offer corrosion resistance

Things To Consider

Require a pilot hole before installation

Not suitable for heavy-duty jobs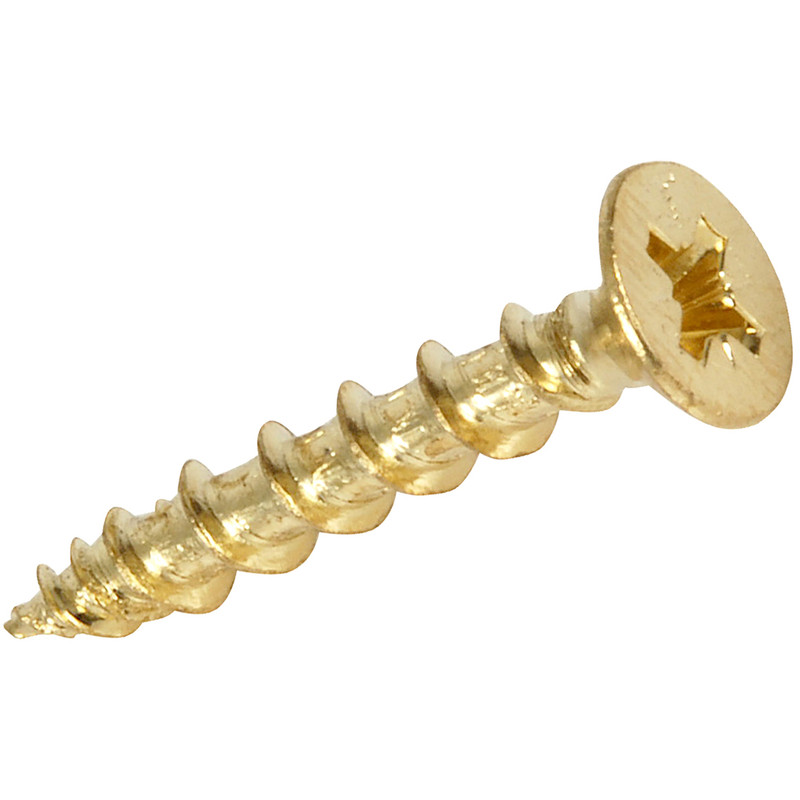 Brass Screws
Brass screws are generally used for putting furniture together and installing doors. Their natural rust resistance makes them more versatile and longer lasting than a generic steel screw – making them suitable for outdoor use.
Brass is also an aesthetically pleasing material for screws, as their natural colouring works well with wooden surfaces.
Brass screws often come at a higher cost than generic screws because of their natural rust resistance. For the eco-conscious, the material can be harder to recycle and may require extra effort to find a way to dispose of them correctly. Additionally, brass is a soft metal and should be avoided for use with heavy-duty materials.
Advantages

Naturally rust resistant and anti-corrosive

Versatile and long-lasting

Aesthetically pleasing

Things To Consider

Higher price tag compared to generic screws

More difficult to recycle

Soft metal – not recommended for heavy-duty materials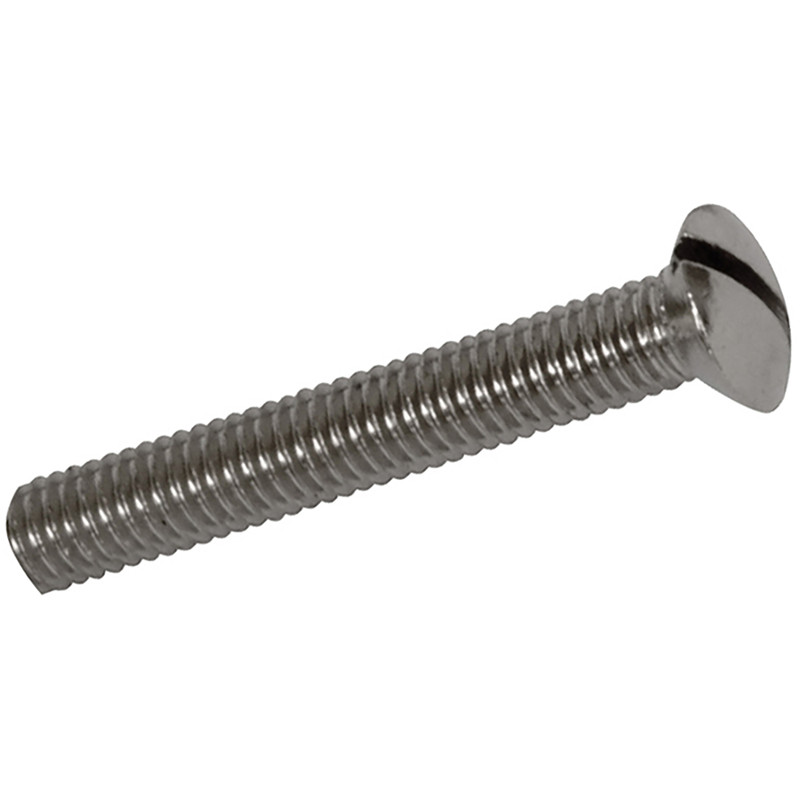 Electrical Screws
Electrical and switch box screws are designed to offer a secure fix when installing and repairing sockets in residential and commercial buildings. Their most common use is attaching faceplates to their back boxes. The screw provides a strong fix because electrical screws are fully threaded. In any situation, this is important – but arguably more so when dealing with electrics.
They're often brass or zinc-plated, making them corrosion and rust-resistant and long-lasting. Electrical screws generally have a slotted drive type, so the correct amount of torque can be applied without damaging the surface or the screw.
In most cases, pre-drilling will be required as they generally have a flat tip – similar to machine screws. This will add to the time required, particularly if you have a lot of screws to install.
Advantages

Fully threaded screw, providing a strong fix

Generally made from corrosion and rust-resistant materials

Slotted drive type ensures the correct amount of torque is applied

Things To Consider

Pre-drilling required because of the flat tip
Screw Drive Types
The drive type of a screw refers to the tool you need to install it. Every screw is designed with a different shaped recess in the head which aligns to a different tool – for example, a Phillips drive type needs a Phillips screwdriver.
Slotted Screws
Slotted screw heads have a horizontal slot in the head and are driven by a flathead screwdriver. They're suitable in cases where minimal torque is required, such as in carpentry or attaching faceplates on electrics.
They're not suitable for use with power tools because the drill bit would slip out of the slot – causing damage to the screw and the material.
Phillips Screws
Phillips drive types are very common and well-known, recognised by a cross on the top of the screw head. They're better for use with power tools than slotted heads, and have a lower 'cam out' potential – meaning the driver will be less likely to slip out of the slot – greater precision with alignment, and will cause less damage to the driver, fastener and surfaces than a slotted head.
If torque gets too high, Phillips drive types have the tendency to 'cam out'. However, some people find this help as it means you can avoid over tightening the fasteners and damaging the material.
Pozidriv Screws
Pozidriv heads are thought of as an improvement on the Phillips drive type. They have four extra notches diagonally on the screw head which allows for greater support for the driver, and torque can be increased with a lower chance of 'cam out'.
The main disadvantage of a Pozidriv screw is that a Phillip driver can be mistakenly used because of their similar design – these drivers often round off the corners of the head, even at a lower torque, and can lead to a stripped screw.
Torx Screws
Torx drive types are recognised by their 6 point star-shaped head. They're commonly found on vehicles, hard disk drives, computer systems, and electronics. Torx heads can transmit a high amount of torque compared to Phillips and Slotted drive types.
Torx heads are generally less available than other, more generic drive types such as Phillips. This means you may find that Torx heads are more expensive, because you'll be limited to branded screws instead of unbranded.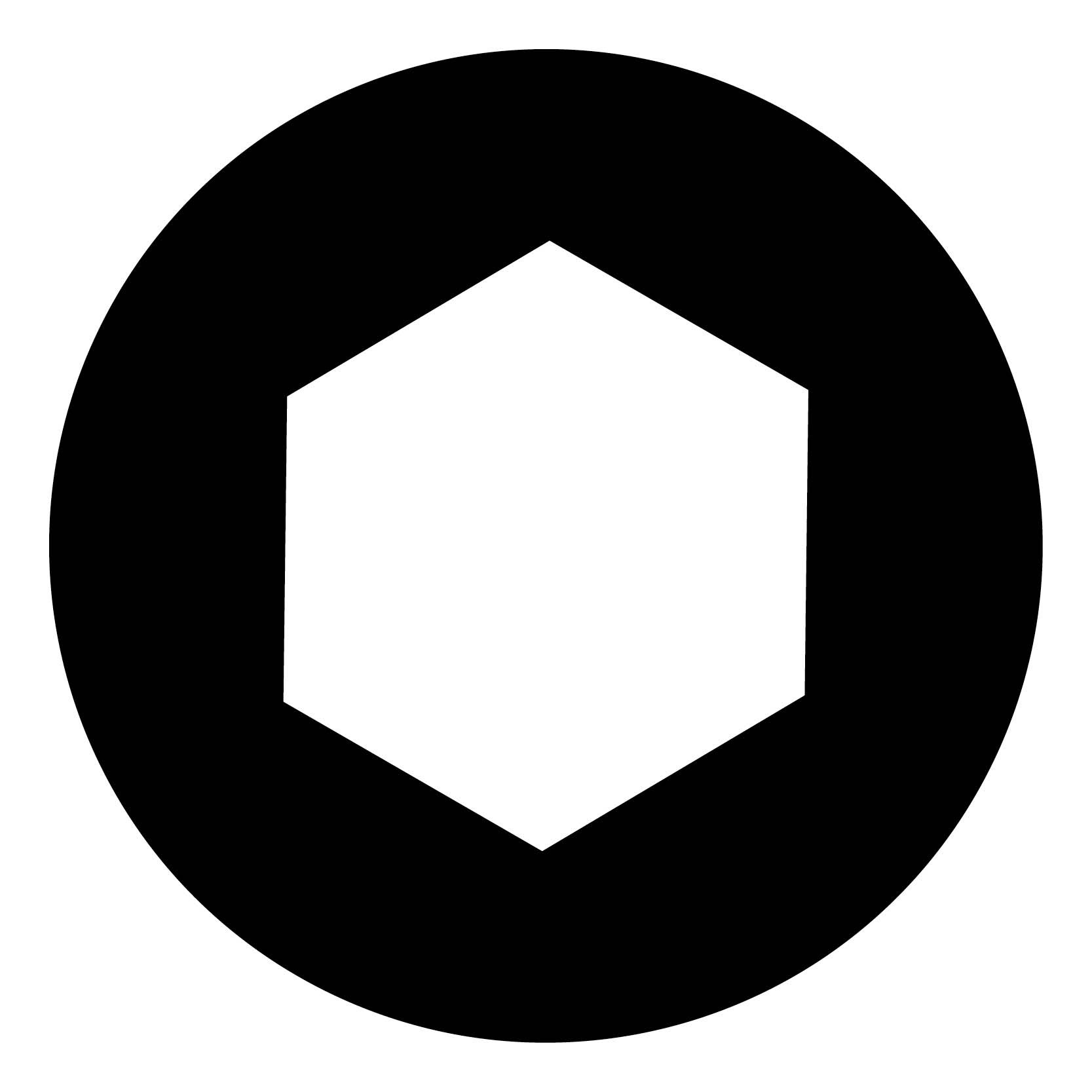 Hex Screws
Hex drive types, also known as Allen screws, are recognised by their 6-sided, hexagon-shaped heads and are operated with a hex key or allen key. In small spaces or where there are obstacles, smaller turns can rotate the screw compared to other types, and they offer a high level of torque for a secure fit.
With any screw, it's important to use the right size driver. However, if you use the wrong size driver with a Hex screw, you could strip the screw head and make it circular – meaning you won't be able to use it anymore and it'll be hard to remove.
PoziSquare Screws
PoziSquare heads are less common than other types of screws, meaning you'll be more likely to find branded, pricier options rather than unbranded. If you'll be using a lot of PoziSquare screws, it could bump up the price of your project compared to using Phillips heads.
In the same way a Pozidriv is an improvement on the Phillips, a PoziSquare is an improvement on the Square screw, commonly used in vehicles. There are ribs on the driver that go into recesses in the screw head – this reduces stripping, improves off-angle durability, and fits in cleanly to make driving easier.
Screw Head Types
The head type of a screw generally refers to how it looks against the surface when it's installed. Sometimes there are technical reasons for a certain head type – such as bugle heads being better for soft materials like drywall – and other times it is more decorative, like a countersunk head to camouflage the fixing.
Countersunk Heads
The most common type of screw head type is a countersunk head. This is a type of flat head screw which tapers down into the shank. Counterhead screws are popular because the head remains flush with the surface and is therefore easier to camouflage.
Bugle Heads
Bugle head screws are very similar to countersunk screws, but better for softer materials such as drywall because the sides are rounded when the head tapers into the shank. This puts less pressure on the softer material, so is less likely to cause damage.
Pan Heads
Alternatively, you can choose a pan head screw which is slightly domed on the surface of the material – taking their name from an upside-down frying pan. This type of head is very useful when a high level of torque is required, as there is extra space to provide a deep socket for a driver.
Button Heads
A button, or round head screw, sits above the surface when fastened and is often used when a decorative finish is required – such as securing a mirror. You may also find button head screws in mechanical or automotive projects because they're well suited to Hex drive types – the rounded head providing a deep socket for high levels of torque.
Key Screw Features
Thread Type
A screw can either be fully or partially threaded. A fully threaded screw has threads running from the tip to the head – meaning every part of the screw is secured in the material.
A partially threaded screw, as the name suggests, only has threading on part of the screw. This type of screw has its benefits – such as when the materials will be put under more stress and could get damaged, such as wood splitting.
Length
The screw you're using needs to be the right size for the surface and the project, or you could damage the surface, the driver, or the fixing itself.
Screws that are too long could pass all the way through the material, whilst screws that are too short are unlikely to be strong enough to hold the materials together.
Diameter
The diameter of the screws is also important, as thicker screws may split more delicate materials such as wood – where narrower screws should be used instead.
However, thinner screws could be bent out of shape if used in heavy-duty projects.
On twinthread screws, you may see diameter referred to as gauge.
Colour
One of the main disadvantages of screws is that they're visible on the surface of the material. For this reason, you may want to find a colour screw that matches the surface to blend in.
At Toolstation, you'll find a range of colour screws including black, tan, green, yellow, silver, blue, red, and white.
Finish and Material
The finish and material of a screw determines both the colour, and the properties it has. For example, the best type of screw for outdoor use is stainless steel because it is resistant to rust and corrosion.
There are other screws resistant to rust and corrosion, such as zinc and chrome-plated screws, black phosphate, and brass screws. However brass screws, for example, are softer so less suited to a lot of outdoor heavy-duty projects.
Frequently Asked Questions
Masonry screws, also known as concrete screws, are best for brick. They are fully threaded meaning they can achieve a more secure fixing, and are strong enough to get through brick – softer screws such as brass would not be hardy enough.

Self-tapping screws are designed for soft materials, and create a thread in the material on the way in. They're not to be confused with self-drilling screws, which create their own pilot hole, as self-tapping screws work best when driven into a pre-drilled hole.

To measure the diameter of a screw, measure the distance between the outer sides of the threads.

To measure the length of the screw, start from just underneath the head to the tip of the screw. If you want to measure the thread length, simply measure the start and end point of the threads – this will be different to the screw length if the screw isn't fully threaded.

M4 is a type of machine screw.

You should use large stainless steel screws to cope with the weight of sleepers.

Self-tapping screws are used for soft materials such as plastic and softwood, and they're designed to create their own thread on the way in for a secure fit.

Narrow screws around 50mm in length will suit floorboards, to make sure they don't interfere with any cables that may run under the floorboards.

The best way to hide screws in wood is by driving them in where they're not likely to be seen – but this isn't always an option. You can also choose a screw that is the colour of the wood, or use a wooden plug or button to cover the screw head.