Heating a home is expensive – and the cost is only set to grow more over the coming year. Upgrading your boiler can have the potential to save lots of money each year if used correctly for even the smallest houses, so it could be worth the investment.
At Toolstation, you'll find Combination (Combi), System, and Heat-Only boilers, which can be powered with gas, electricity, or liquid petroleum gas (LPG). The right boiler for you will depend on a range of factors, including the size of the building, the space available for a heating system, the number of bathrooms you have, the mains water pressure, and even the type of boiler you already use.
When you're buying a boiler, make sure you get it properly installed by a qualified tradesperson – such as a Gas Safe Engineer.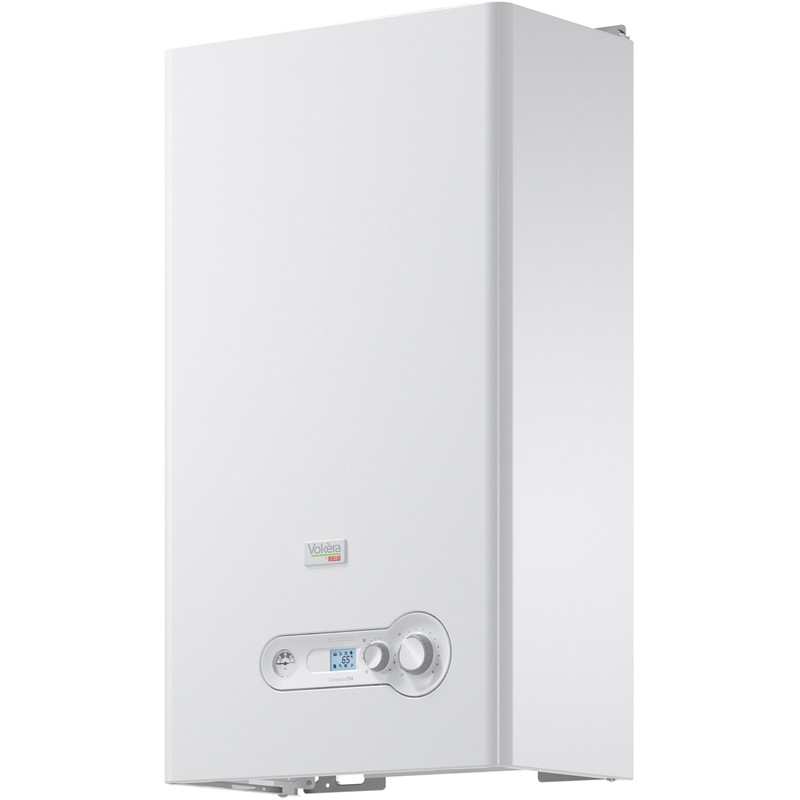 Combi Boilers
Combi boilers, also known as combination boilers, are a single unit which provide water for hot taps and showers, as well as central heating. Cold water is taken from the mains supply and heated within the boiler unit by burning fossil fuels like gas or oil. They're easy to install and often have high water pressure, as they rely on the water pressure from the mains supply.
Combi boilers don't rely on water tanks, making them ideal for smaller houses and flats short on space. Because water is heated by the boiler itself, you get hot water on demand – no worrying about the hot water running out when you're showering! New gas combi boilers can also be up to 98% efficient, meaning only 2% of the energy you're paying for is wasted.
Combi boilers are best suited for smaller properties, such as two bedroom terraces and flats – they may struggle to keep up with the demands from multiple bathrooms or if you need a lot of hot water because they heat water on-demand rather than storing it. And if you're in an area with low mains water pressure, you may be better off with a system or heat-only boiler if you have the space as these will likely provide higher water pressure.
Advantages

Compact and highly efficient

Easy to install

Hot water on demand

Things To Consider

Could struggle to keep up with demand of a larger property

Less suited to areas with low mains water pressure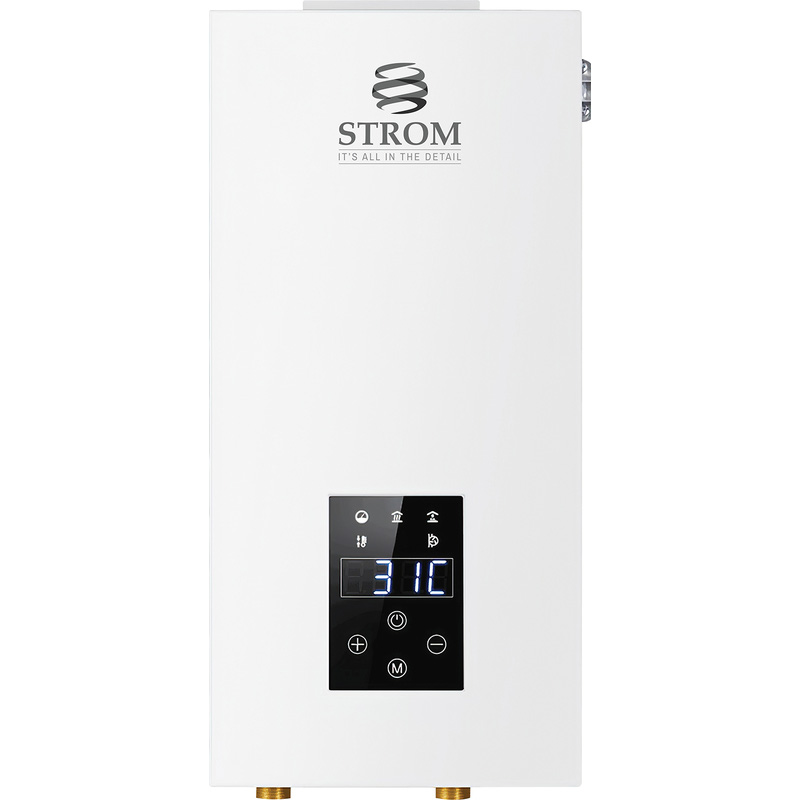 Heat-Only Boilers
Heat-Only boilers, also called regular boilers, are the oldest type of boiler on the market, and are composed of three main parts: the boiler, a hot water tank, and a cold water tank. They provide hot water to the central heating system and the two tanks which can send hot or cold water to taps or showers. They're compatible with solar panels and can also be fitted with an immersion heater which means you can still get hot water if your boiler packs up.
Heat-only boilers are ideal if you have high hot water demands or live in a larger property with multiple bathrooms because you don't need to rely on the water pressure from the mains supply as they have a consistent supply in the tank. If you're in an area with low water pressure, a regular boiler is ideal because you'll have a consistent supply from the tanks.
The main thing to consider when buying a heat-only boiler is how much hot water you use – if you use a lot, you could run out and need to wait for it to heat up again. However, you could be wasting energy if you don't use much hot water at all because you'll be heating up large tanks of water that might not be used. Installation can also be complex because there's lots of pipework, especially if you're changing the type of boiler you use – and multiple tanks require much more space and limit installation options.
Advantages

Ideal if you have higher hot water demands such as multiple bathrooms

Consistent water pressure

Compatible with solar panels

Things To Consider

Use a lot of space – boiler, plus two storage tanks

Installation can be more complex and choices can be limited

You could run out of hot water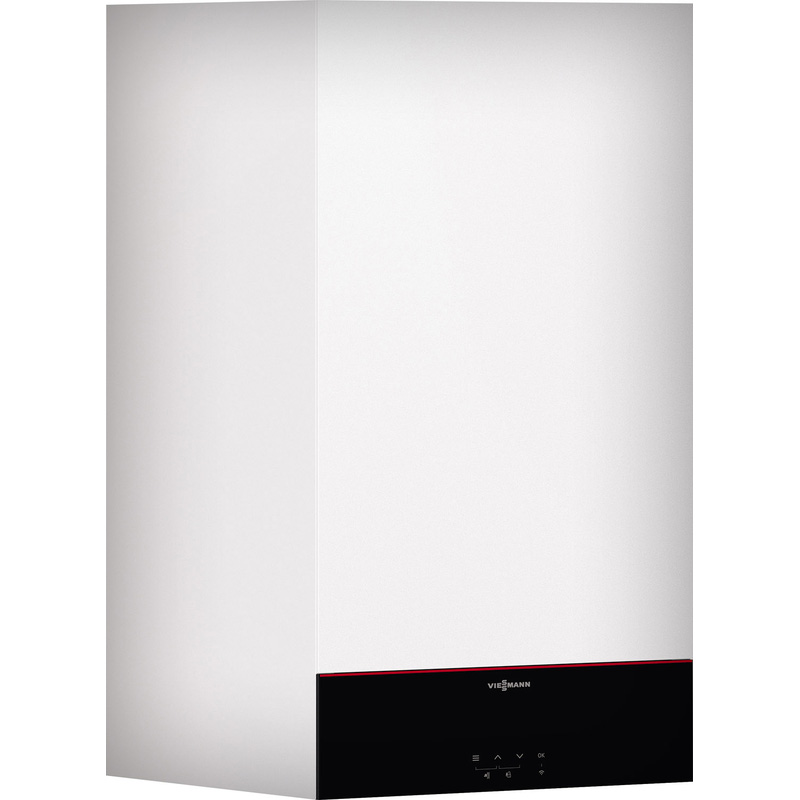 System Boilers
A system boiler is basically an updated version of a heat-only boiler, and made up of a boiler and a hot water tank. Rather than storing cold water in a separate cold water cistern, it's instead supplied to the boiler via the mains. You can get hot water on demand and heat your radiators using the hot tank. System boilers are also compatible with solar thermal (energy created from solar panels).
System boilers are ideal for properties with multiple bathrooms that may be using hot water at the same time, as you won't struggle with low water pressure. And, because you don't need to worry about a cold tank and most components are found within the boiler, installation is more flexible.
If you have an older central heating system, modern system boilers may be too powerful – as central heating in these buildings may struggle with higher water pressures. These boilers may not be suitable if you're low on space, such as if you live in a smaller 2-bed terrace or flat, because you need room for the hot water tank. And like regular boilers, once the hot water has run out you'll need to wait for it to heat up again.
Advantages

Water pressure won't drop if you have multiple bathrooms in use

Easier and more flexible install than regular boilers

Compatible with solar thermal

Things To Consider

Old central heating systems may struggle with high water pressure

Not ideal if you have limited space for a hot tank

Hot water can run out
Boiler Fuel Types Explained
Gas Boilers
Most boilers in UK domestic properties are gas powered. These boilers are connected to the gas supply via the national network and offer a convenient and reliable method to heat a home.
Gas is cheaper than other types of fuel such as electricity, making it a more financially viable option – especially with the UK cost-of-living crisis and energy bills continuing to rise.
Whilst choosing gas as your boiler fuel may have lower monetary cost, it does come with an environmental cost – as these gases release carbon emissions into the atmosphere. Not only this, but gas as a fuel isn't 100% efficient – at least 2% of the gas will be wasted, but this can go up to 30% for older boiler models.
Advantages

Convenient and reliable

Cheaper than electricity

Things To Consider

Carbon emissions released

Not 100% efficient, some energy will be wasted
Electric Boilers
Electric boilers are ideal for small properties, and larger energy-efficient buildings, such as new-build 3 bed semi-detached homes. These are ideal if the building cannot be connected to gas, or for high-rise flats, and are very easy to install with no flue to consider.
Electric boilers are 100% efficient – meaning no energy is wasted whatsoever – and they don't rely on combustion so there's no risk of a hazardous gas leak. Because of this, they don't need annual servicing by a gas safe engineer – meaning you'll be saving money on check ups!
When choosing an electric boiler, you need to make sure you pick the perfect size for your space. Choosing a boiler that's too small will mean it'll work too hard – and as electricity tends to come at a higher cost than gas, you'll end up spending more money and won't benefit from their efficiency. As electric boilers rely on a strong electrical connection, they may be less suited to homes with old wiring and lower voltage.
Advantages

100% efficient and carbon neutral if on a renewable tariff

Easy to install and no gas flue to consider

Zero risk of gas leak and no need for annual servicing

Things To Consider

Picking the right size is crucial to ensure 100% efficiency

Requires good electrical conection with good supply voltage
LPG Boilers
LPG stands for Liquefied Petroleum Gas, which is transported and stored in gas canisters near the boiler. These boilers are cheaper to purchase compared to oil and gas, around half the cost.
They're also more compact, making them suitable for smaller homes.
Like oil, LPG needs to be stored in a tank nearby, and replacement fuel has to be ordered regularly – meaning you'll need to keep a close eye on your usage. And whilst the cost of the boiler is lower, LPG is more expensive per kWh than oil and gas – so it'll be pricier over time.
Advantages

Compact, making them suitable for smaller homes

Cheaper initial cost than gas boilers

Things To Consider

Need to order fuel in advance

LPG is more expensive per kWh than oil and gas
Boiler Features
Smart Heating
Smart heating controls allow you to control your energy usage from your phone, tablet, or computer so you don't waste money heating empty rooms. This can save you hundreds of pounds each year on your energy bill.
A boiler can become 'smart' by linking it up to a smart thermostat, which allows you to control the heating in each individual room. Smart "learning" thermostats also figure out your daily routine and heating requirements and turn on your radiators when it thinks you'll need it, so it becomes even easier to manage your energy use.
Most boilers can be made 'smart', including combi, system and heat-only models. However, check with the boiler manufacturer before investing in smart heating.
Boiler Size
When talking about the size of a boiler, it generally means the boiler's kWh capabilities rather than its physical size.
When you're thinking about the size of the boiler you need, most people consider the number of radiators you have as a guide. For example, if you want a combi boiler and have 10 radiators in your home, you'll need a 24-27 kWh boiler. However, if you're using a heat-only or system boiler, you'll want a 12-15 kWh model.
For combi boilers powering 10 to 15 radiators, you'll want a 28 – 34 kWh model, but for heat-only and system boilers, you'll want a 18 – 24 kWh boiler. If you have 15 to 20 radiators, you need a 30 – 40 kWh combi boiler, or a 32 – 40 kWh heat-only or system boiler.
Energy Rating
With energy costs rising rapidly, energy classification has become more and more important. Large appliances, including boilers, are given a rating from A to G, depending on how energy efficient they are. This way we can reduce the energy we waste and use more of it to efficiently heat our homes and offices.
All modern condensing gas boilers will be at least 90% efficient, which gives them an A rating – the highest energy rating an appliance can get. However, older non-condensing models (which are no longer sold) could be as low as 60%, which gives them the lowest energy rating of G.
If you're still using an old non-condensing gas boiler, you'll notice a big difference in the cost per year if you upgrade to a modern alternative – and you'll reduce your carbon footprint!
Hydrogen Ready
As the UK makes an effort to be carbon neutral by 2050, the gas supply will be 100% hydrogen rather than fossil fuels before 2030. As a fuel, the only emissions hydrogen emits is water – making it very clean and environmentally friendly.
At Toolstation, you'll find 20% hydrogen-blend ready gas boilers. These are prepared to use a 20% blend of hydrogen and 80% fossil fuels from as early as 2023, when the UK government hopes to begin reducing the reliance on fossil fuels.
Manufacturers are committing to keeping hydrogen boilers and hydrogen-blend ready boilers at a similar cost to standard gas boilers, so it's a good idea to look out for these models if you're looking to upgrade yours.
Condensing vs. Non-Condensing
A condensing boiler features an element that captures excess energy that would have otherwise been lost, by condensing water vapour within the boiler unit. Non-condensing boilers are older and don't have this money and energy-saving feature. All boilers sold nowadays are condensing boilers in line with the law. These are at least 90% energy efficient, compared to old non-condensing models which could be as low as 60% efficient.
Upgrading your boiler from an old non-condensing one to a condensing model is not only better for the environment, but can harness extra energy to heat your home or office and reduce your energy bills significantly.
If you're still using an old boiler, the investment in a new condensing unit will be well worth it when you can save up to hundreds of pounds each year on your energy bills, as well as reduce your carbon footprint.
Frequently Asked Questions
A combi boiler is a single unit and doesn't need a hot or cold water tank. They provide on-demand hot water for taps and showers, as well as central heating. They work by taking cold water from the mains supply and heating it within the boiler by burning fossil fuels – most commonly gas.

You'll find new boilers ranging from just £500 up to £1700. If you're a homeowner, you also need to consider the cost of installation – as you'll need a Gas Safe Engineer to install your new boiler.

If you have a combi boiler, you can have a mixer shower, digital shower or electric shower. Power showers are designed for low water pressure areas, meaning they're not suitable for combi boilers which rely on a consistent pressure.

To install a boiler, you need a Gas Safe Engineer. Installation is much simpler if you're getting a boiler of the same type, and if you're keeping it in the same place.

The best combi boiler is one which is the right size for your building. If you're living in a two bedroom terraced house, there's no need to get a 35 kWh model as it'll be too powerful for your needs and a waste of money and energy. Similarly, if you live in a larger 4 bed, or are heating an office, a 24 kWh combi boiler won't be up to the task.

A biomass boiler works similarly to a standard boiler – simply burning fuel to create energy. However, instead of using fossil fuels, they use sustainably sourced wood pellets. They're carbon neutral as long as enough trees are planted, as the carbon emitted was actually absorbed by the tree when it was growing.

The best type of central heating boiler depends on your needs. If you're in a smaller house or flat, the best option is probably a gas combi boiler as they'll have the right amount of power and won't use up much space. However, if you're in a larger house and use more hot water at the same time then you'll want to consider a system boiler or heat–only boiler which can keep up with your requirements.

Condensing boilers recover water vapour in the exhaust gases and condenses it to gather excess energy created that would otherwise be lost.

A boiler flue is essentially a tube that allows gas to safely escape a boiler. You can usually spot a boiler flue on the roof or side of a house.

To get a free boiler, you must either: own your home, live in a council house with an EPC rating of E, F, or G, or live in private rented accommodation with permission from the landlord. In addition, you need to be in receipt of any of the following: child tax credits, working tax credits, income-related ESA, income-related JSA, income support, universal tax credits, or pension credits.

There are three main types of boiler: combi boilers, system boilers, and heat-only boilers. If you're looking for an alternative, you can also consider heat pumps or biomass boilers – which the government is currently offering hefty discounts for via the Boiler Upgrade Scheme.

On average, a boiler service costs about £80 – £100.

The life expectancy of a typical boiler is around 10 and 15 years, but some can last much longer. You should make sure you keep your boiler maintained with an annual service.

The optimum temperature for a combi boiler is between 50 and 60 degrees celsius. Any lower and the risk of legionella disease increases. Much higher and the efficiency is reduced, but going up to 65 degrees celsius is okay if you like it warmer.

A heat-only boiler, also known as a regular boiler, is the oldest type of boiler and is made up of three parts: the boiler unit, a cold tank, and a hot tank. The cold tank is filled with water from the mains, is heated by the boiler unit and stored in the hot tank, and is then available on demand.

Most domestic boilers are gas boilers. A valve allows gas to enter the boiler and is lit in a sealed chamber – which water then passes over to be heated. This will change slightly depending on the type of boiler, but the general process is similar.

A system boiler has a boiler unit and a hot tank. Water is taken from the mains, heated within the boiler unit, and then stored in the hot tank for hot water and central heating on demand.

If you have a condensing boiler, it will be at least 90% efficient meaning it has an energy class of A. Old non-condensing boilers may be as low as 60% efficient, so 40% of the energy created is wasted.

You can get a boiler gas safety certificate when you get your boiler installed by a Gas Safe Engineer and each time you have your boiler serviced, which should be every 12 months. It isn't a legal requirement for your engineer to give you a boiler certificate, but can be beneficial for your records so you know what work has been done and when.

The most energy efficient boiler is the one that's right for you and your needs. If you buy a pricier boiler designed for a 4-bedroom house but you live in a 2 bed flat, you'll be wasting energy because it'll be too powerful.

Similarly, your boiler will have to work much harder if you buy a lower cost model that can't keep up with your heating demands.

If you have 10 radiators, you'll want a combi boiler around 24 to 27 kWh, or a heat-only or system boiler at around 12 to 15 kWh.

If you have 15 to 20 radiators, you'll want a 28 to 34 kWh combi model, or an 18 to 24 kWh heat-only or system boiler.

For larger properties with 15 to 20 radiators, choose a 32 to 40 kWh combi boiler or a 30 to 40 kWh heat-only or system model.

Not all boilers are gas – alternatives to gas boilers include electric, LPG (liquefied petroleum gas), or oil boilers. Alternatively, you can use a heat pump or a biomass boiler, the latter of which uses sustainably sourced wood pellets.