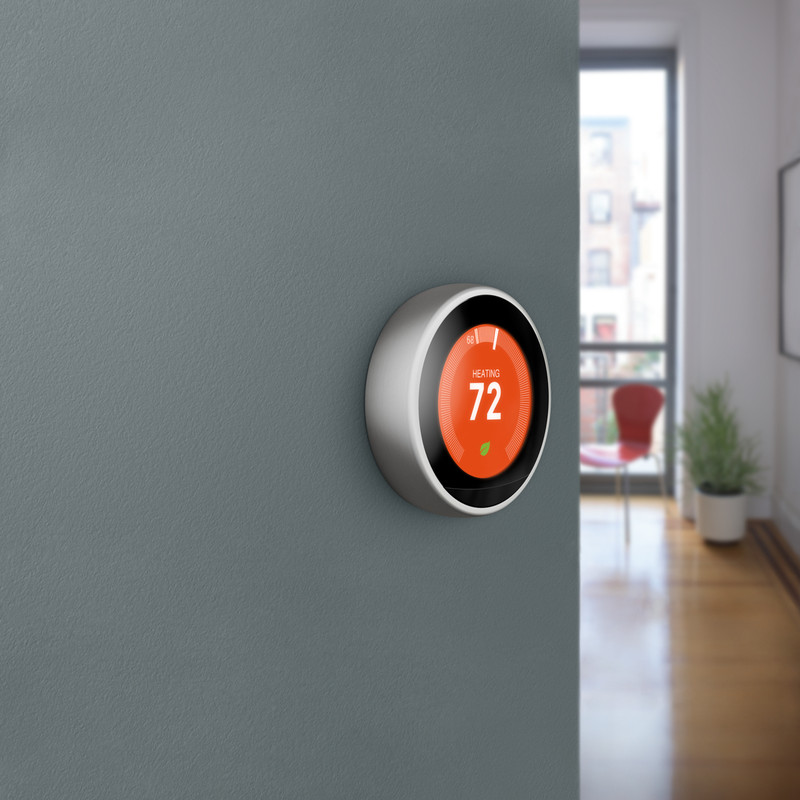 Smart Thermostat Buying Guide
Slide 1 of 1
Are you wondering whether to invest in a smart thermostat for your home? Discover the benefits of smart thermostats, learn how they work, and explore the best options available to buy at Toolstation.
What Are Smart Thermostats?
A smart thermostat connects to your heating and hot water system via WiFi, allowing you to switch them on and off or set a timer remotely. They can be linked to other smart technology, like a Google Nest or Amazon Echo. 
Smart thermostats are different to smart meters, which send automatic readings to your energy provider, although both give you more control over your energy consumption.
Pairing a smart thermostat with smart TRVs on your radiators allows you to control the temperature of specific rooms, meaning greater comfort - and no longer heating rooms that aren't in use.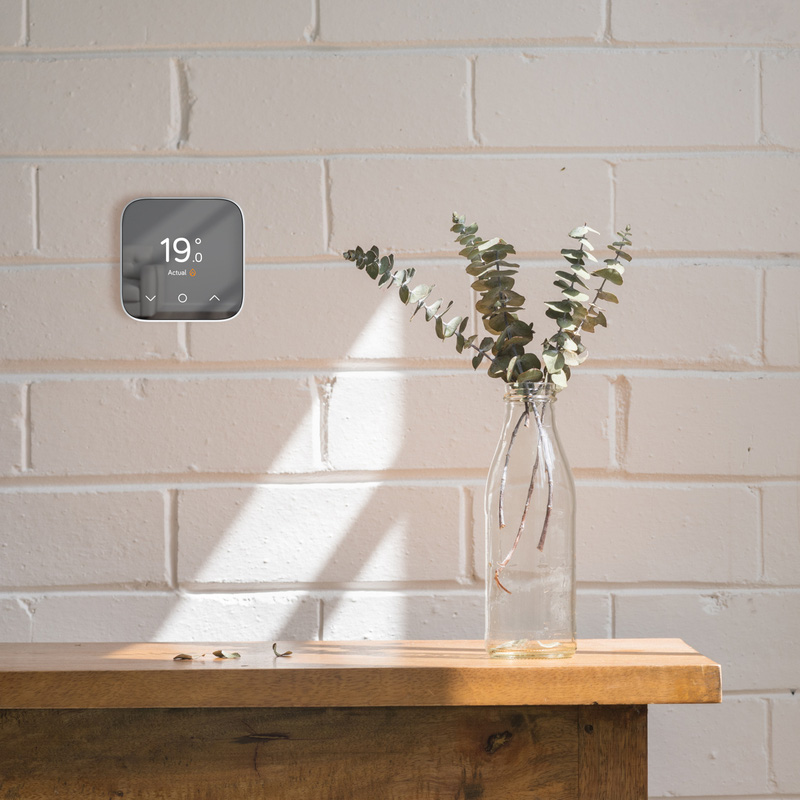 How Do Smart Thermostats Work?
Many types of smart thermostats are available, each with unique features. You can expect all the standard thermostat features like programming and temperature control, with the added benefit of controlling this remotely. 
For example, if you're on your way home from work and want to heat the house before you arrive, or you've forgotten to turn the heating off on your way out, you can do this from your phone. 
In addition to these standard features, some smart thermostats can detect whether there's a draught or an open window, which can help to prevent heat loss by notifying you (but keep in mind ventilation is important to prevent mould growth). They can also help to prevent your pipes from freezing if you're away by switching the heating on intermittently.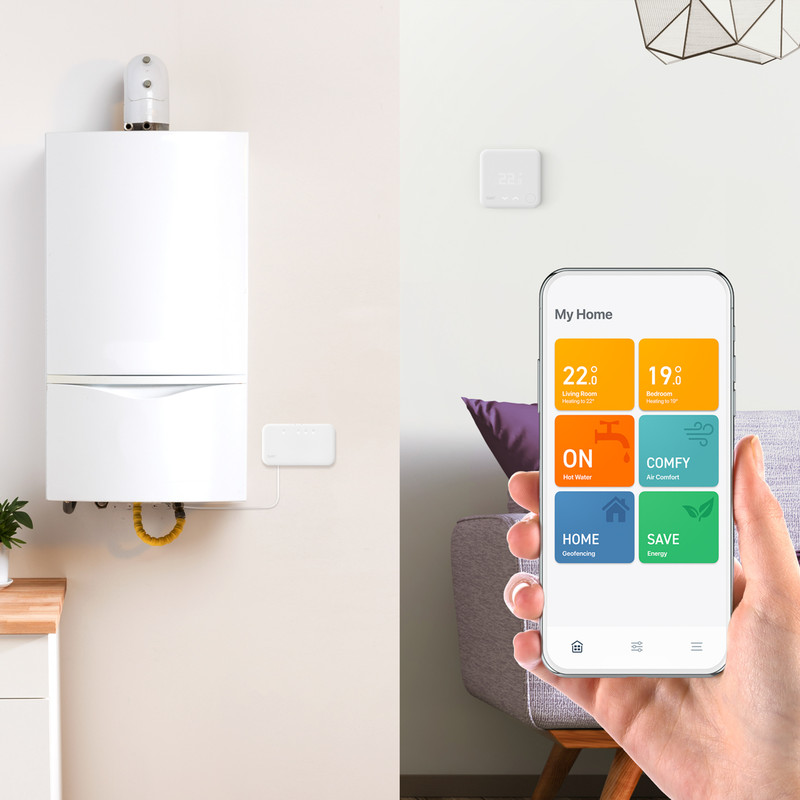 The Best Smart Thermostats
Whatever your budget or lifestyle, you can find the best smart thermostats at Toolstation from leading brands like Hive, Google Nest and tado˚. There are options to suit all heating systems, including combi boilers and tanked hot water.
Key Smart Thermostat Features
Geofencing
Geofencing is a perimeter boundary around a smart thermostat or other smart device to detect people in the area using GPS technology. With geofencing, your smart thermostat can turn on and off when you (and your smartphone) enter or leave the perimeter of your home, which can help to reduce your energy consumption by not heating an empty home.
Energy Usage Reports
Energy usage reports can help you to keep an eye on your energy consumption. Some smart thermostats that provide energy usage reports can help you spot where you're wasting more energy, and how you compare to other similar users. By keeping an eye on your energy use, your smart thermostat can help you to make informed decisions about your consumption.
Draught Detection
Some smart thermostats can detect draughts or open windows that are causing your home to waste energy. This can help you to keep an eye on where cold air is getting in, so you can get draught excluders or keep open windows to a minimum. They'll send an alert to your smartphone in order to make you aware. Note that you can always disregard the alert – as opening windows can help to prevent mould growth. 
Learning Thermostats
Learning thermostats use artificial intelligence (AI) to remember your routines and adjust your heating accordingly. Simply keep the thermostat updated regularly with the temperature you want it to be at for the first week, and it'll generate a heating schedule so you can optimise your energy use. No more coming home from work to a freezing cold home – your thermostat will automatically turn on when you're on your way home!
Smart Home Compatibility
If you're thinking about a smart thermostat, it's probably not the first 'smart home' technology you've got. Perhaps you've got an Echo, or a Google Nest Hub. Whatever you're using, all the thermostats you'll find here at Toolstation are compatible with the most common smart home systems - meaning you can use voice and remote control to adjust your heating and cooling.
Multi-Room Control
Multi-room control, or zoning, allows you to heat different rooms to different temperatures based on their use. If you work from home, you'll probably want your office room to be slightly warmer during the day, but you won't need to heat up your bedroom. Zoning can help you to save energy by reducing unnecessary heating, and helps you stay comfortable during the day.
Hot Water Control
If you have a system or heat-only boiler, you'll have a separate hot water tank that needs to be heated regularly so you have hot water whenever you need it. Smart thermostats can make this even easier by either learning from your routines, or making it super simple to set up schedules so your water is always hot in time for your morning shower. This can also help save energy by only heating water when you need it. 
Sunblock
Smart thermostats with sunblocking technology means you can get an accurate temperature reading even when strong sunlight is radiating onto the device. By turning the sunblock feature of your smart thermostat on, your home will stay at the correct temperature and you don't need to worry about where you're installing your thermostat. 
How Much Do Smart Thermostats Cost?
Prices start at around £100, but these clever gadgets can help save money on your bills, making them a worthwhile investment for your home. We also stock a range of accessories for smart thermostats, like stands and radiator valves.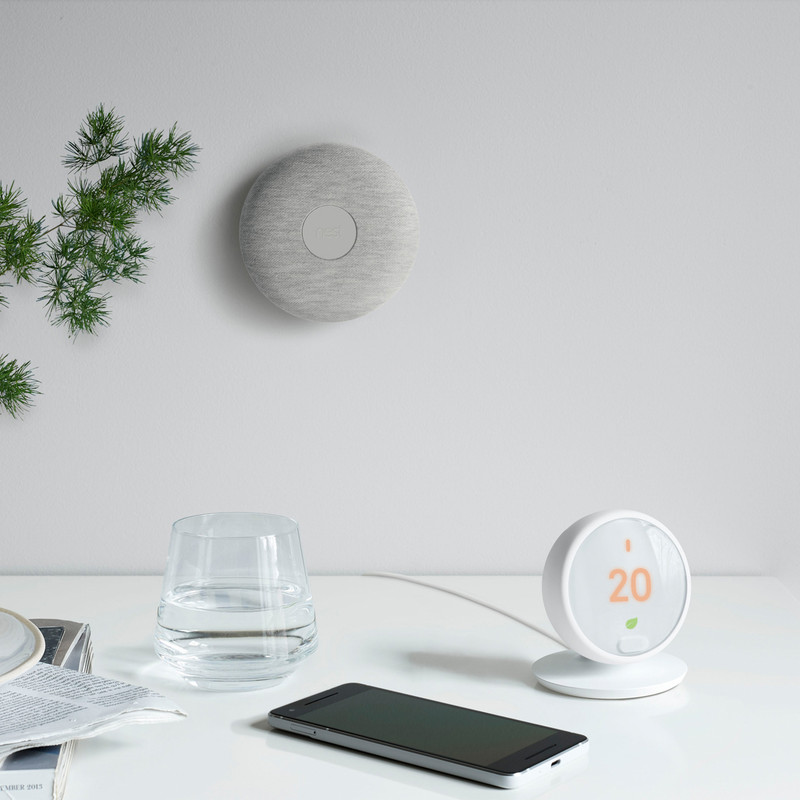 Our Top Smart Thermostat Brands
Whatever your budget or lifestyle, you can find the best smart thermostats at Toolstation from leading brands like Hive, Google Nest and tado˚. There are options to suit all heating systems, including combi boilers and tanked hot water.
Smart Thermostat FAQs
Still not sure if a smart thermostat is right for your home? Discover answers to some of the most frequently asked questions about smart thermostats.
Is it worth installing a smart thermostat?
Do you need an electrician to install a smart thermostat?
Which smart thermostat works with Alexa?
Do smart thermostats need WiFi?