SIP Portable Ventilator 10"
by SIP Product Code: 23990 23990
Please allow extra time for deliveries over the Festive Period (15th December 2023 - 3rd January 2024)
View product details
15 Available for delivery. This item will be delivered directly by our supplier within 3 business days.
More info
Product Details
The SIP 10" Portable Ventilator is designed for easy ventilation of odours, fumes, and air in various industries, including loft spaces, below ground tasks, and workshops.
• 230V (13A) input supply; 300W (0.4hp) motor
• High 2800 rpm fan rotation for 2700m³/hr air flow
• Supplied ventilation for a range of applications such as workshops, below ground, loft spaces and more
• Efficient ventilation of odours, fumes, stale air
• Effective intake suction for a large air volume
• Built in front and rear grilles for added safety
• Carry handle for portability and positioning
• Optional ducting available separately
44231
• Relative 66 dB(A) low noise level
• Mounted on 4 anti-vibration feet
• Fully ErP compliant
Technical Specification
Delivery Details
Related products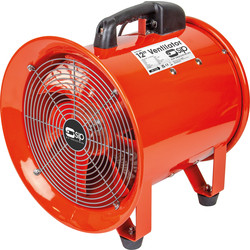 SIP Portable Ventilator 12"
£159.98
Page 1 of 1