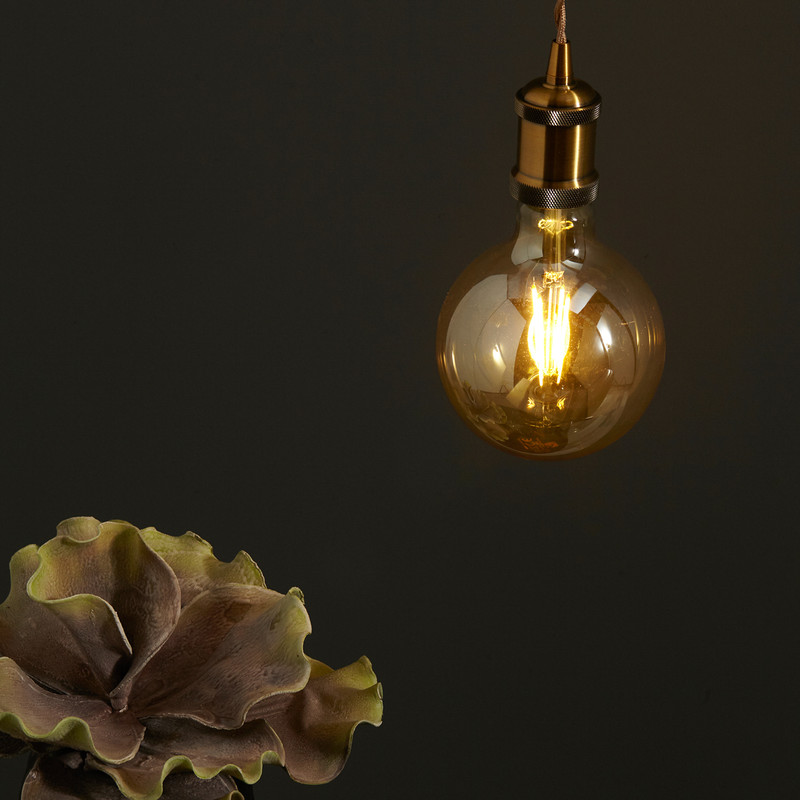 Light Bulb Types Buying Guide
Slide 1 of 1
With all the light bulbs to choose from, it can be difficult to pick the best one for your needs. You'll find a range of light bulb shapes, from standard domestic GLS bulbs and decorative candle bulbs to industrial tubes.
Light bulbs are usually categorised by a letter, known as the light bulb series, followed by a number which is the measurement in millimetres at the widest point in the bulb. For example, a standard domestic bulb will probably be an A60 light bulb. 
Once you've chosen the size and shape of your bulb, consider the light level – or lumens – that a bulb provides, the colour, the energy efficiency and the IP rating you need for a room. Smart bulbs give you the option to change the colour and light level of the bulb by connecting to your smart device. 
Key Light Bulb Considerations
Size
The size of the light bulb is measured in millimetres at the widest point of the bulb. For example, a GLS – or A-series – bulb with a widest point of 60mm is called an A60 light bulb. Consider the size of the fixture, as smaller lamps will need a smaller bulb, as well as the light level you need. Often, the larger the bulb, the greater the lumens – but this isn't an exact science.
Cap Type
Most bulb shapes will fit into a limited selection of cap types and sizes, such as bayonet, edison or T caps. Standard bulbs for domestic use will usually have an edison or bayonet cap, while commercial, industrial and decorative bulbs will have pin fittings. You'll find more information in our guide on types of light bulb fittings.
Light Colour
These days, bulbs come in different colours so you can choose the mood for individual rooms and times of day.  Some bulbs give you the option between different shades, from warm white, cool white, daylight, or even brighter colours like shades of red, blue, or green. Each colour will offer something different to the room, and RGB colour changing bulbs are great for mood lighting, parties and kids rooms.
Lumens
Lumens is a measure of the total amount of light given off from a bulb. There is a huge range of choice, from 80 lumen capsules for Christmas lights, to 9000lm tubes for warehouses of factories. The right lumen level will depend on the size of your room as well as your personal preferences and what the room is used for.
Dimmable Lighting
Being able to dim a bulb allows you to control the light level in a room, such as for different times of the day. Dimmable lights need a dimmer switch and the bulbs may be more expensive, but they can offer a luxurious and cosy feel to living rooms, kitchens and bedrooms. Many smart bulbs are dimmable and remove the need for dimmer switches by connecting to your smart device.
Energy Class
The energy class of a light bulb refers to its efficiency. Updates to the energy classes in 2021 means bulbs with an A+++ rating now have an energy class of B or C, with A being the highest efficiency a device can be. This gives manufacturers room to continually improve to aim for 100% efficiency. Most light bulbs have a rating of E or F.
Wattage
Wattage refers to the electrical power used by a light bulb. In general, the higher the wattage, the brighter the bulb. Energy efficiency plays a role, because a high wattage bulb might not be as bright if it has poor efficiency. When choosing a bulb, balance the wattage with the energy class to find the best bulb for you, and consider that brighter, higher wattage bulbs can reduce the need for as many light bulbs.
IP Rating
The IP rating of a light bulb means the level of protection from solids and moisture which is important in bathrooms and kitchens where lights may be affected by steam and water splashes. The first digit in an IP rating means how protected it is against solids like fingers or dust – from 0 to 6. The second digit, from 0 to 9, details the level of protection against liquids. You'll find bulbs with a range of IP ratings, including IP65 and IP44. 
Our Top Light Bulb Brands
Frequently Asked Questions
What shape is a light bulb?
How do you find a light bulb shape code?
What is an A19 light bulb shape?
What is a B10 light bulb shape?
What does lumens per watt mean?