Estwing Forged Handy Bar 18oz
by Estwing Product Code: 53812 53812
20+ Available for delivery. This item will be delivered directly by our supplier within 3 business days.
More info
Product Details
Estwing's 18oz Handy Bar is solid forged from one piece of American steel creating the most durable and long lasting striking tool. The lightweight tool has a rounded construction to reduce the weight and increase strength, and the high leverage design is engineered to produce maximum torque when pulling nails and prying boards. The 1 3/4" wide blade reduces marring when pulling tough nails.
Technical Specification
Delivery Details
Related products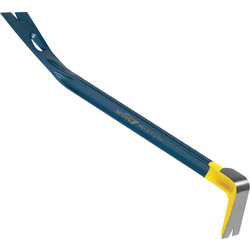 Estwing Pry Bar 18"
£41.98
Page 1 of 1