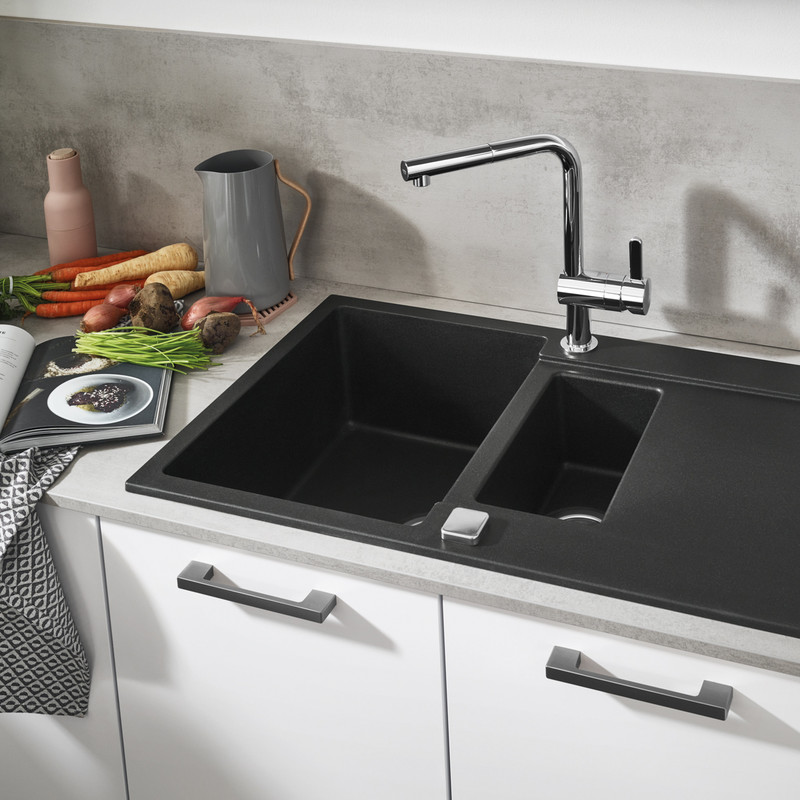 Kitchen Sink Buying Guide
When you walk into a kitchen, you probably don't give a second thought to the style and material of the kitchen sink – much less whether it's installed underneath or on top of the surface. However, choosing the right sink for your space can freshen up your kitchen and even increase the value of your home by staying on top of trends.
The two main types of sinks are inset and undermount. Inset sinks are installed by placing them over a cut out on top of the countertop, while undermount sinks are installed from below. There are advantages and things to consider with each option depending on your countertops, space available, and your budget.
You'll find kitchen sinks in a range of sizes, colours and materials, as well as 0.5 to 2 bowl varieties for greater freedom. Want to buy all the hardware together? Our sink and tap combos allow you to pick a style and stick to it to create a seamless and sophisticated look.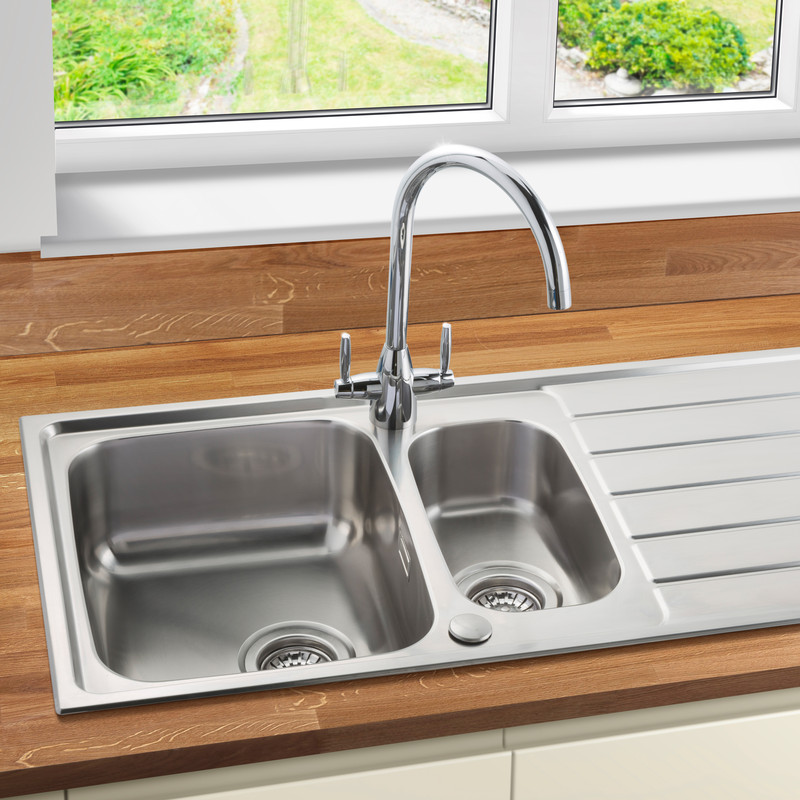 Inset Sinks
Inset kitchen sinks, sometimes called overmount sinks, are easily installed in a hole in the countertop from above, and are held into place with a lip or frame around the edge. They're generally square or rectangular framed and often come with a draining board included.
Inset sinks are easy to clean because there are no gaps where food and bacteria can get trapped, easy to re-caulk if needed, and are often cheaper than undermount alternatives. They're also compatible with a number of different worktop materials because they need less support.
In terms of aesthetics and practicality, inset sinks are more visible on the counter and take up more worktop space than undermount alternatives. In smaller kitchens you may want to consider how much of the area will be taken up with the sink and whether this will affect the space.
Advantages

Easy to install and recaulk when needed

Keep clean with ease

Compatible with a range of worktop types

Things To Consider

Visible on the counter

Takes up more worktop space

Sink bowls are generally shallower than undermount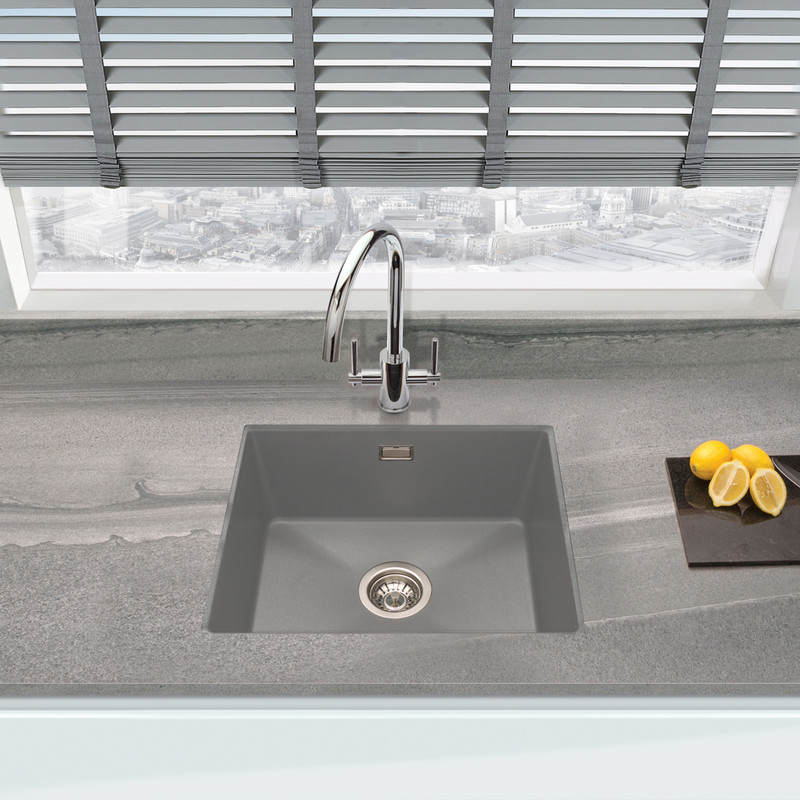 Undermount Sinks
An undermount sink is installed from below the surface of the worktop, which has a cut out made to the size of the bowl. They're a highly versatile and customisable type of kitchen sink, providing a seamless look in the kitchen.
Undermount sinks are ideal for smaller kitchens with less counter space because they don't sit on top of the work surface.
Despite the fact they take up less space on the counter top, they'll often need more space below the sink in order to support their weight. Undermount sinks also tend to be heavier than inset alternatives meaning they're only suitable for solid surface worktops – improper installation could mean everything comes crashing down!
Advantages

Versatile and customisable

Don't take up any extra countertop space

Seamless, attractive style on the work surface

Things To Consider

The 'lip' between the counter and sink can catch food and bacteria

Only suitable for heavy duty counters with plenty of space underneath

Often more expensive and less DIY-friendly than inset sinks
Kitchen Sink Material Types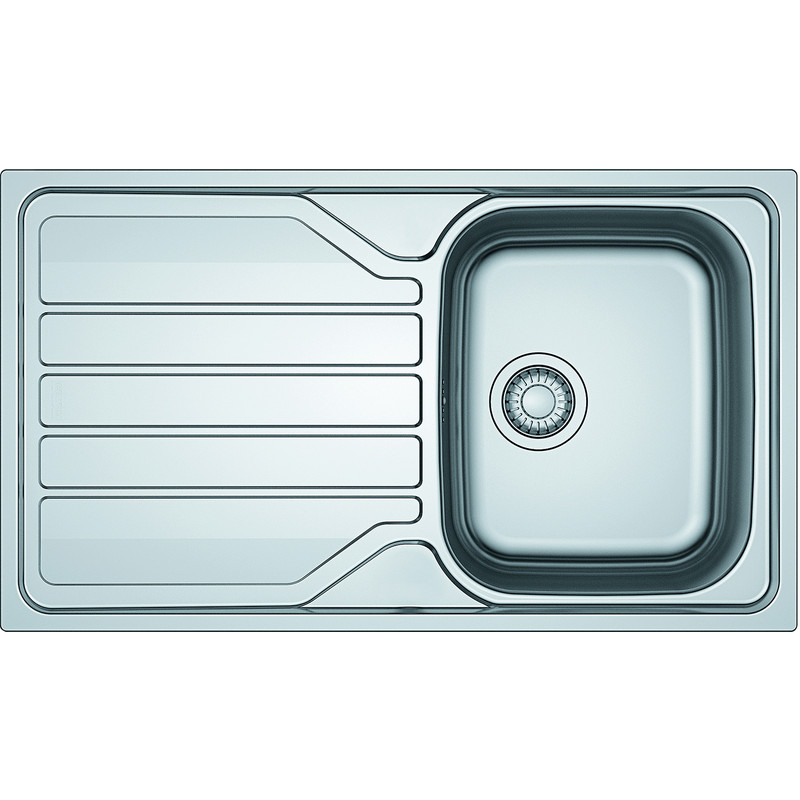 Stainless Steel Sinks
Stainless steel sinks are good value for money, durable, and can withstand high temperatures when you need somewhere to put hot pans.
They're easy to coordinate with taps, as well as other appliances in your kitchen.
When it comes to style, there's less variety than ceramic or tectonite sinks if you want to add luxury and compliment the style of your kitchen. After some time, you may also notice that stainless steel sinks can get scratched with general use.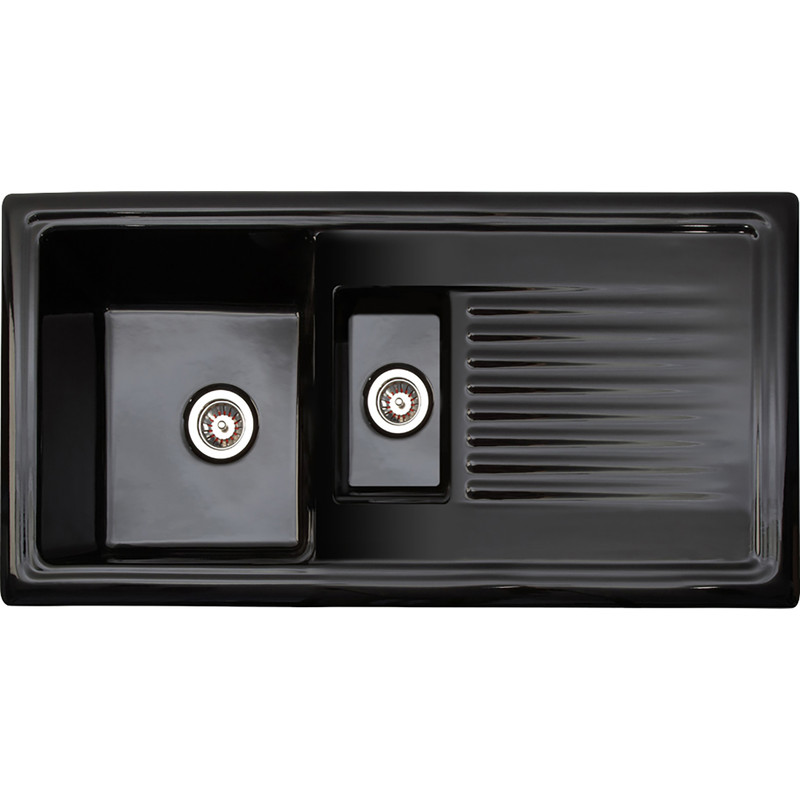 Ceramic Sinks
Ceramic sinks are often found in 'farmhouse style' kitchens, offering a classic and luxurious look whilst being a durable and hard-wearing sink type.
They're easy to clean and, unlike stainless steel sinks, won't dent under heavy loads.
However, because they won't dent, they can chip or crack if enough force is applied (although this is unlikely). Because ceramic is so robust, dropped plates and glasses are also likely to smash – making them less desirable if you're clumsy!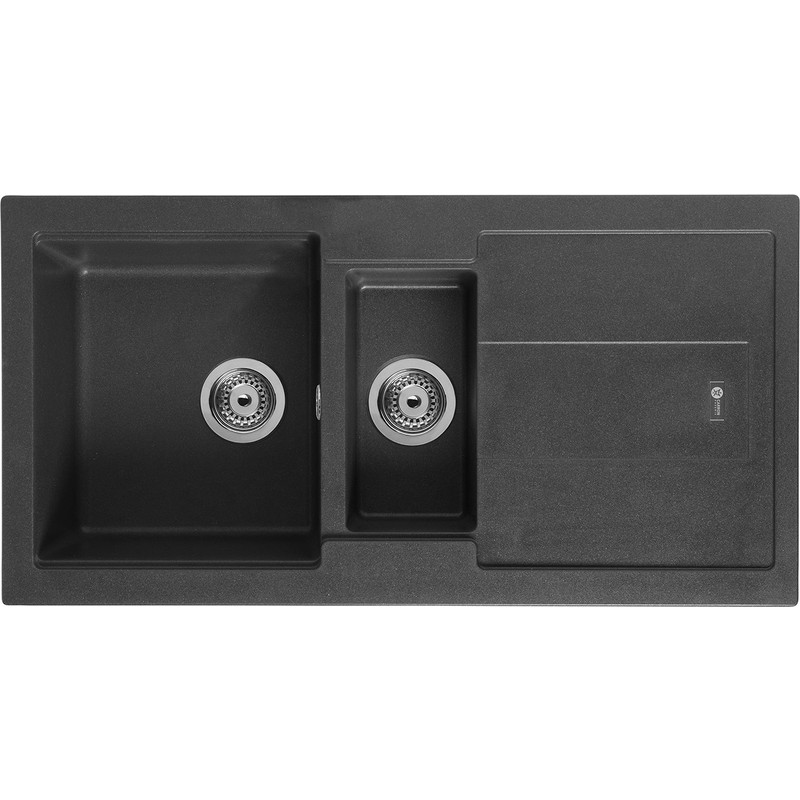 Granite Composite Sinks
Granite composite sinks come in a variety of styles and colours and have the benefit of being less expensive than natural granite – instead, they're made from granite and acrylic resin. They compliment modern kitchens because they lend themselves to a contemporary style.
Granite composite sinks are tough and can withstand high temperatures and won't chip easily.
Granite composite sinks are likely to be heavier than stainless steel alternatives – so they'll be better suited to heavy-duty countertops than can withstand the weight. Granite composite sinks also tend to be slightly more expensive than ceramic or stainless steel alternatives.
Tectonite Composite Sinks
Tectonite composite sinks are made of glass-fibre reinforced polyester and feel a little bit like a bathtub. You'll find these sinks in a variety of colours and styles at a cost much lower than granite composite. They're resistant to fading in sunlight, making them ideal if your sink is in front of a window.
Tectonite composite sinks lend themselves to a contemporary style making them a perfect, lightweight and low-cost option for modern kitchens.
If you live in many parts of the south of the UK, or anywhere else with hard water, limescale will be more visible than on other types because composite sinks are darker in which shows up the white limescale.
Key Sink Features
Number of Bowls
You'll find sinks with anywhere from 0.5 to 2 bowls, but most are 1 or 1.5 bowl models.
If you're likely to need to wash or soak small items that need cleaning, a 1.5 or 2 bowl sink is very useful as you can continue using the main bowl for general washing up.
Colour
Gone are the days where you're limited to one colour of sink. You'll find sinks in silver, white, black, grey or graphite in order to give your kitchen a completed, seamless, and luxurious look – whatever your style.
You can even match the tap, sink and other appliances in your kitchen for a sophisticated look.
Tap and Sink Combo
Tap and sink combos are perfect if you want your kitchen to appear seamless and put together. Buying them together ensures you have everything you need to install the system and makes it even easier to pick a look that suits your style.
Our Top Kitchen Sink Brands
Frequently Asked Questions
The best kitchen sink depends on a number of factors, including your budget, your countertop surfaces, the style you're looking for, and even how clumsy you are!

If you're looking for a lightweight sink that can withstand high temperatures, dropped crockery and hard water you should consider a stainless steel sink.

However, granite and tectonite composite sinks are perfect for offering a modern look, while ceramic sinks give a luxurious 'farmhouse' aesthetic and can withstand high temperatures and won't dent if you drop a heavy pan.

An undermount kitchen sink is installed from below the surface of the countertop to provide a seamless appearance and save precious counter space in smaller kitchens.

However, they require heavy-duty surfaces and a lot of under-sink space so they can be properly supported – so they're not suitable for every kitchen.

If you're a DIYer and want to replace a lightweight inset sink with another inset sink (such as stainless steel or tectonite composite), you can save on installation costs and simply pay for the sink – from about £50.

If you're looking to install an undermount or heavier sink such as ceramic or granite composite, it's best to get this installed by a professional which will add to the cost.

An inset kitchen sink is installed from above the work surface and placed in a cut-out on the countertop.

This is a common type of sink because it's easy to clean because you can easily access every little gap, often cheaper, and more lightweight so is suitable for a wide range of countertops.